I know a good number of people have succeeded in tweaking
their imei and I'm so much glad about this… And if you haven't still succeeded in
tweaking your imei, well find below a simple easy to use app that will enable
you generate the last digit of your imei. Download it below
Back to business. I don't really know if
Airtel Nigeria
are
just sampling data usage or are just trying to see the best data plan suitable
for a typical
Android
user. Not too long ago, they intentionally stopped
Airtel Bis
1+1 Offer given you 4GB for 1500.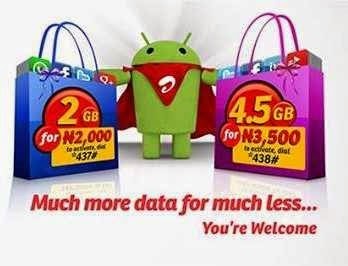 And now again, another
Android Data Plan
has been launched…
in their words, they call it a promo, but in my words, I call it a temptation.
A temptation because it works on PC, and doesn't zap data on PC. The new
Airtel Android Promo
plan offers you
4GB
for
2k
to last you for 2months, and
9GB
for
#3,500
to last you 2months.
Who Should Go For This Plan?
==>Everyone who has Strong Airtel Network in their
locality
==>Has not succeeded in tweaking their
IMEI
to blackberry
==>Every iPad/iPhone users
==>Every PC users.
Mind you, this plan works on all platform even Nokia touch
with enabled gprs…lol!
How Can I Get This Plan?
==>For 4GB dail
*437*1# …. #2, 000 will be deducted from your account
==>For 9GB Plan, dial *438*1#… #3,500 will be deducted
from your account
Dial the code before you recharge your line to know if you
are eligible for this offer.
What If I'm Not Eligible For This Offer?
If you are not eligible for this offer, just call CC and I believe
they will tell you what to do. I really think the issue of eligibility should
be erace if they truly want an headway with this plan.
The question now is, are you eligible? … and if you are,
will you rock this offer?