This article is for the serious minded people, the future conscious people, and the next generation billionaire. Read it carefully.
Ripplin
is a social media network that is yet to be launched
just like
facebook
but right now its strictly by invitation okay.
This social network is called Rippln its NEW! Right now to join you have to be
invited by a member that is already on Rippln someone like me that is already a
member you can't register on the website for now until this app is launched for
public.
Now You get paid to share,socialize etc on Rippln, Here is the catch there is
what you call inner circle, the inner circle are members that are going to
benefit from this new social media when its launched into the public in the
next 60days.
One of the key benefits is as a member of the inner circle you get paid
for socializing!!!! There alot of other benefits like eCommerce etc.
Now Once you are a member or joined the inner circle you are giving 5 friend
request to invite
facebook
am sure
people have more than 1000 friends, now Facebook pays you commission on the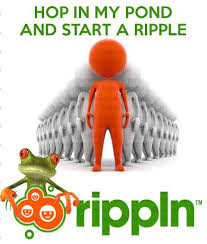 number of friends you have and friends that you add short all what you do on
your facebook like changing of status,commenting on friends walls,uploading and
sharing of pictures or video clips you get paid!
That's what Rippln is all about they pay you to socialize in a nutshell!!! but
the window will be closing soon on joining the inner circle in the next 60 days
before the app is launched into the public to be used like facebook, tweeter
and the rest!
You may ask why do I believe in this program or company that is new, fine I
have did my little research one of the contributors to the success and made
facebook what it is today is the owner of
of this Rippln app!
His name is Adam Danglo!!!
If you are interested in been in the circle, I can send you an invitation to
register and you become a member of this inner circle.
I have two spots available for now already I have invited 3 of my friends
already, although once this two spots have been taken another 5 invites will be
give to me to invite more people so in short there is room for everyone here
Its totally free……it will only cost you to register and socialize end of
story! Note been a member of the inner circle are in three stages, once you
invite 5 people you move to the next stage, currently am on the first stage.
Once you register and sign in there is panel that has videos that explains
everything you need to do and know.
A friend just invited me last weekend and decided to share here with everyone,
this is a great and fantastic opportunity.
Note: From my research this was how facebook started! It was strictly by
invitation it was not open to the public way back, I joined facebook sometime
in 2008! And look at what facebook is now.
It was a private gathering at first then years after released into public for
people to register and use but this time Rippln is here to make us benefit also
while we socialize FOR FREE!
Dont think of now, think of years after the rewards of been a member of the
circle!
Okay if you interested I mean the serious ones that shares my vision and can't
wait to see what Rippln has to offer, send me an email or message with
your fullname,email address and phone number and I will send you an exclusive
invitation to join me in the inner circle.
Your email,phone number and fullname is required to send you an invitation and
will be used only for such.
"'Trust me am not the person that will waste time on such if I know its not
worth my time, but guys this is a silent gold mine" It will be a pity you miss
out this is gonna be BIG when this app is OUT!!"
Thanks.
friends and family that are interested in joining this
network, now think of it this way……You have 100 friends on