Make sure you invite someone to get to the next stage…!
To those who have succeeded in activating their account, this is what you should do next.You can invite 5 other members, login to the member area. it brings
you to a panel, click the invites tab, you will see 5 empty slots. Click
on each slot to invite friends, fill in there data and that's it.
Notice there is a video clip, invite 5 other people to unlock the next
stage.
When you invite 5 people a video unlocked showing you what
to expect and whats been going on, I believe you should have received one or
two mails from Rippln updates.
Try to invite to unlock the videos in your panel to understand more what to
expect from Rippln,
How Are We Going To Be Paid?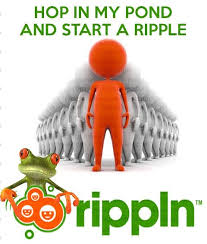 To give a straight
answer to this, since the whole world is
involved and participating including countries that are even way worse than
Nigeria are involved.
I believe we will be paid via International Cheque! Like google adsense checque
for instance.
Aside that as a member of the inner circle I read somewhere we will have the
benefit of owning an e-commerce account, meaning you get to sell stuff
internationally across the world that's just one benefit that interest me aside
that we the users will be paid a commission.
Imagine advertising or selling products or service such as an ebook on facebook
without paying a commission or a fee to own a merchant account, am sure you
know all the advertisement you see on facebook they actually been paid for the
space.
Means of how you would be paid should be for now should be least of your worries
but I understand you its money these
days everyone is thinking about.
Lets be seriously, everyone is trying one thing or the other to make it!
Someone else invited me my white friend over here and I decided to do little
research and found out that the possibilities would be great and decided to
give it a try but if you think its not going to help you or not worth your time
its okay, I just thought it will be great to share with everyone here.
Besides what do you have to loose? You already doing what you are expected to do
already on facebook,twitter etc but this time you are rewarded for your time
unlike facebook you are not even considered for the time and effort you put
into facebook every time you post a comment or share pictures and videos with
friends.

Well, much has been said. Don't hesitate to ask question where you are
confused.
See you at the top! Keep Ripplning