Okay guys, much have been said about how to watch
free Dstv channels on Blackberry
and
Symbian phones
, should in case you missed the
tutorial you can always check them out
here
. But it seems football channel was
missing and I will like to talk about that today including some other free
stations.
First of all, let me begin with
PPClink
is a portable software that supports mobile TV and can be installed on iPhone, ipad, android and window phones. It
has a lot of TV stations with free channels far better than the initials I shared with us the
other day. If you are a fan of Indian movies,
PPClink
is the best place for you to visit.
PPClink.com offer 80% of pro TV stations free of charge. My God, you just need to visit this app from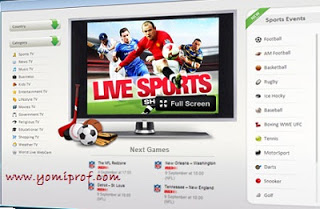 you device to understand what am talking about.
The second am going to share with us is specifically men't for live
football matches; and I will like you to follow me carefully so that you won't
be lost.
How Can I Watch Live Football Matches From My Android Device
1.
Install MX player
2.
Install UStv (these apps are free in Android
market). With UStv, you can watch many premium Dstv channels for free!
But should in case you want more sport channels, you can
visit
http://www.atdee.net/
even from your blackberry phone and Laptop.
Finally, to those who love to watch movies online, like
seasonal films you can always visit
http://stream-tv.me/
for your seasonal movies. Make sure you use the best network to connect; am
sure you know what I'm talking about.
In-short, to enjoy your favorite foreign and local Radio
stations install TuneIn Radio app from Android market. With this awesome App,
you are sure to listen to:
BBC
CNN
VOA
Lagos Radio
Brilla FM
Eko FM
Wazobia FM
Rhythm FM etc.
Don't mind me if I lay more emphasis on Android phones,
because Android seems to be taking over the market.
Are you confused? Ask your questions.