Where are the Nollywood lovers? This app is your best bet
for Nollywood
movies
and it will definitely keep you busy all day long. Okiki
is an application that makes movie streaming social.
Okiki introduces a platform in the
Nollywood
movie industry
that streams the very best movies, while at the same time connects the
industry, artist and fans together through a seamless app.
Okiki is not just a movie streaming app, it comes with its
own unique social network that can be used to connect fans both home and abroad
to the studios and artist in real-time.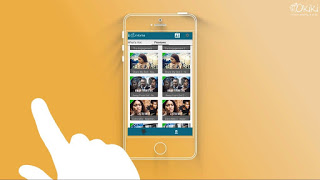 OKIKI offers fans the chance to chat 1-1 with their favorite
celebrities and provides -live streaming on all the latest releases from the
Nigerian film industry via the easy-to-navigate free downloadable app.
Where Can I Download The App?
Its available for Android Users… download it
here
Your movie experience just take a new turn.