Etisalat is so smart to the point of integrating their existing Video streaming package to fit into Netflix. I can see that most Nigerians are already crazy about this Netflix and Etisalat quickly took advantage of it.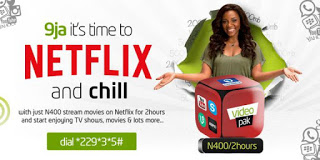 According to Etisalat, you can stream Netflix videos for complete 2hrs with just N400. If you love movies, you'll love this package.
To activate this package, dial*229*3*5# and you are good to go
Meanwhile, we are still waiting for other network to introduce their own packages with regards to Netflix.
The question is are you willing to sacrifice N400 to stream a complete movie on Netflix after paying Netflix monthly fee?