Despite the facts that
MTN
has the largest data base
subscribers, Airtel NG is trying all they can to plot the graph on how to woo
old and abandon customers who left them for other network back on board. This
Telecom huzzle is so real.
20X
is a special welcome back offer for all Airtel customers
who have not used their line for at least 30 days or more. Usage includes calls
(incoming or outgoing), SMS (incoming or outgoing) or data.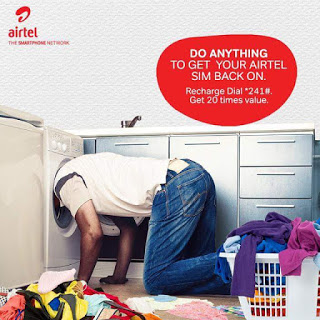 I'm pretty sure a lot
of you have dumped your
Airtel
sim since the virus of
2GB for N200
infected your
sim and even Airtel CC couldn't deliver you from that virus. If you are part of those who have dumped your Airtel sim for
a very long time, Airtel still love you and we want you back.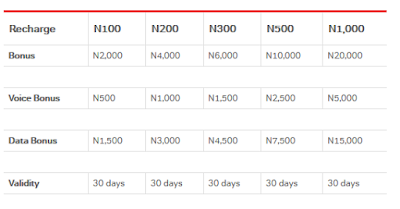 How Does it Work?
With 20X, N100 recharge will give you N2000 bonus airtime, in which N500 is for voice call and N1500 for data and all will
be valid for 30 days. Recharge of 200, 300, 500 and 1000 also attract
mouthwatering bonuses.
How Do I Get this Offer?
You can activate the 20X offer by dialing the subscription
menu or direct subscription codes seen below;
N100
Dial *241# and select preferred option or
dial *241*100#
N200
*241*200#
N300
*241*300#
N500
*241*500#
N1,000 *241*1000#
What bonus will I enjoy on 20X offer?
Answer: 20 times
bonus on your selected bundle.
How long will I enjoy this offer?
You can continue to enjoy the offer for 30 days.
Can I enjoy this offer multiple times?
Yes, you can purchase this offer multiple times within 30
days from the date of first purchase.
How long is my bundle valid for?
Your bundle is valid for 30 days only.
How can I check my balance?
Simply dial *123# to check your bundle balance.
What do you think on this?