Are you expectant the way I'm expectant… Gosh! I hate boring moment – This is why curing boredom with eye catching movies is my thing.
Here are the 19 New Movies Expected in 2018
Mowgli
Can you ever have too many versions of the Jungle Book? Not in my opinion.
Mowgli is due for release 19th October
In Darkness
What's better than one Game Of Thrones star on the big screen? No release date yet for In darkness.
Deadpool 2
Deadpool 2 debuts Josh Brolin as the new nemesis Cable, and Zazie Beetz as Domino. I guess you don't want to miss this. Its already out in the Cinema, but HD version is not available for  download.
Jurassic World: Fallen Kingdom
You love it scary, you've got scary ass dinosaurs in this movie due for release June 6th.
Hereditary
This is the most scary movie ever made… Don't watch it if you can't handle it. Expected release date 15th of June
Ocean 8
The female reboot of Ocean's Eleven stars ate Blanchett, Sandra Bullock, Julia Roberts, and Rihanna, just to name a few.
This movie will be due for release 22nd of June
Ant-Man And The Wasp
This is a super hero movie played by Paul Rudd. Ant-Man And The Wasp is due for release 29th June.
Mary Shelley
It's about time we learned more about the woman behind Frankenstein, and who better to help us than Elle Fanning, Douglas Booth and Maisie Williams, right?
Due for release 6th July
The First Purge
This movie is due for release 6th of July
Skyscrapper
This might just be the most stressful watch of the year. Thanks a bunch, The Rock…
Skyscraper is due for release 13th July.
Incredible 2
The Incredibles 2 is due for release 13th July.
Mission Impossible 6
I don't really think we need another film from this franchise just like the Purge… but its due for release 27th of July
The Meg
Imagine if Jaws was even more hellishly terrifying… that's The Meg.
The Meg is due for release 10th August.
Christopher Robbin
Christopher Robin is due for release 17th August.
Venom
Tom Hardy is starring in Spider-Man spin-off Venom, and we're always cool with Tom Hardy starring in anything.
Due for release 5th October
X-Men: The Dark Phoenix
Two X-Men films in one year? Great news for Marvel fans. And Game Of Thrones fans
X-Men: Dark Phoenix is due for release 2nd November
Fantastic Beasts And Where To Find Them 2
Robin Hood
The latest remake of Robin Hood stars Taron Egerton and Jamie Dornan. due for release 21st November.
Ralph Breaks the Internet: Wreck-It Ralph 2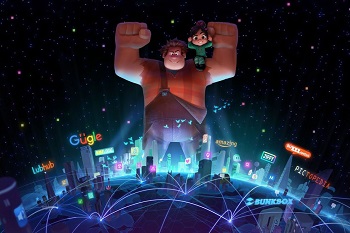 Ralph Breaks the Internet: Wreck-It Ralph 2 is due for release 30th November.
Aquaman
Happy Christmas from Jason Momoa and his bulging muscles.
Aquaman is due for release 21st December.