This year alone, you've discovered some of the best apps for streaming live football, tv shows, movies etc but those apps require data to work effectively.
However, there is another streaming application newly introduced and some of you are already using it dubbed as Cruise TV app.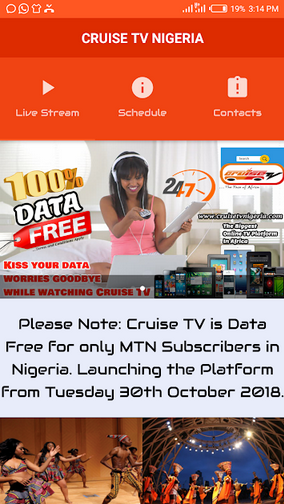 Cruise TV is a newly launched streaming network, developed to showcase and promote the African culture, utilising the extensive reach of digital technology to reach out to as much people as possible. The platform features a wide range of TV shows that preach the African culture heritage to all and sundry, for all ages and races across Africa.
Cruise TV offers 24/7 entertainment and it has varieties of programmes which you can check out from the schedule category.
The good news is that using Cruise tv streaming app with any MTN sim is absolutely free. It doesn't require your data. With no data, no airtime, your stream flawlessly.
Where to Download the App
Download it From Google Play Store here
Install and run it.
And if you are on PC or Laptop, simply go to http://cruisetvnigeria.com/ to stream live.
Any where you'll be spending your holidays, this application will be your companion and keep you up to date. Let us know what you think about the app if you are already using it.