The truth is that the internet is filled with a lot of ways you can make money online, you just got to choose the right one. A lot of you are on instagram, so I'm going to be discussing with you today a way you can make money on Instagram by liking photos using Insme.
With InsMeApp you can be making from atleast N3000+ or more daily from this platform if you are really interested to learn how.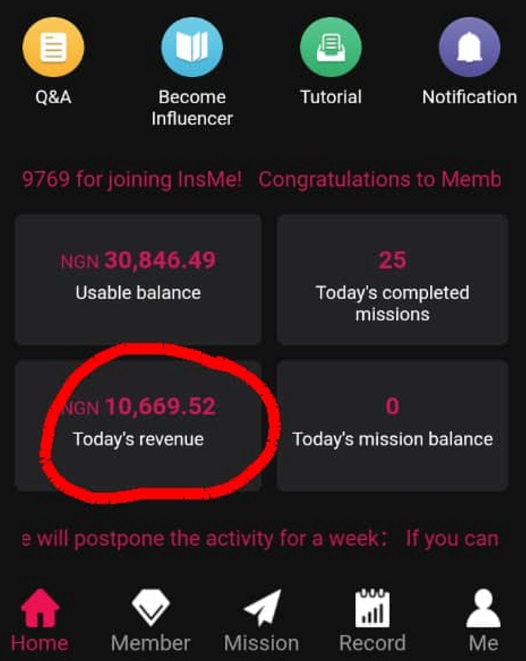 Before We Begin, Make Sure You Have The Following;
>>A Smartphone or a PC
>>Instagram account
>>Nigerian Sim Card
>>Patience is reading and following
What is Insme?
"InsMe is an Authorized Affiliate Platform of InsHeart in Nigeria. In 2015, with the strong support of IG, dozens of the most popular European and American Internet celebrities has jointly founded InsHeart, an international online interactive community for IG users".
"After the formation, InsHeart is focusing on bringing global IG users together, enhance communications with each other and give the best advice to IG so that they may also continue to improve".
"During October of 2020, InsHeart opened its platform for the people in Nigeria by appointing InsMe. The member of InsMe can now earn extra income by helping to promote the ads of IG through InsHeart".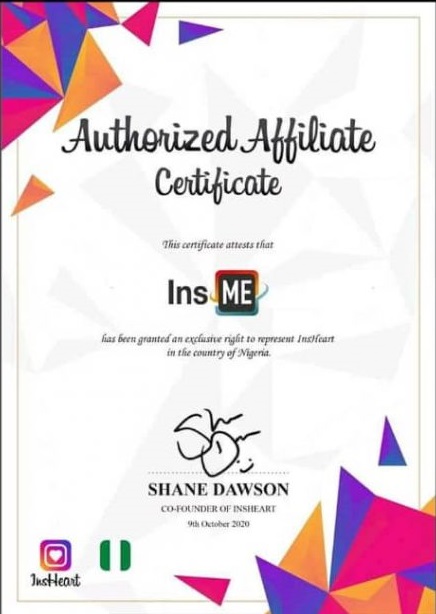 InsMe is a registered promotional Platform in Nigeria, which works in partnership with Instagram to promote the various ads being placed by various internet celebrities on the Instagram social media platform.
This is an Income Program where you do some tasks and get paid. On this platform, IG (Instagram) is the social media mostly used.
How Does it Work?
InsMe has two different business models. This first is that InsMe members can get rewards by just clicking like on the influential marketing contents in IG.
For the second, InsMe aggressively augments promotion of internet celebrities who have talent but are still anonymous due to the lack of network resources.
When you do these tasks you get a reward depending on the package you are in.
Insme Packages
Insme has different packages, but registration is absolutely free. As an Insme registered member on the free plan, you'll be given N28 on successfully completing a Mission. You are limited to 2 Mission per day.
But as a paid member, you can have as many missions as you want depending on the package you subscribed to.
InsMe also rewards her members for referring new users to register and perform tasks on the platform. InsMe rewards her members up to the 6th indirect downline.
How do I Begin my Registration?
Click here to register and use the below invitation code
Carefully fill in your details and submit when you are done.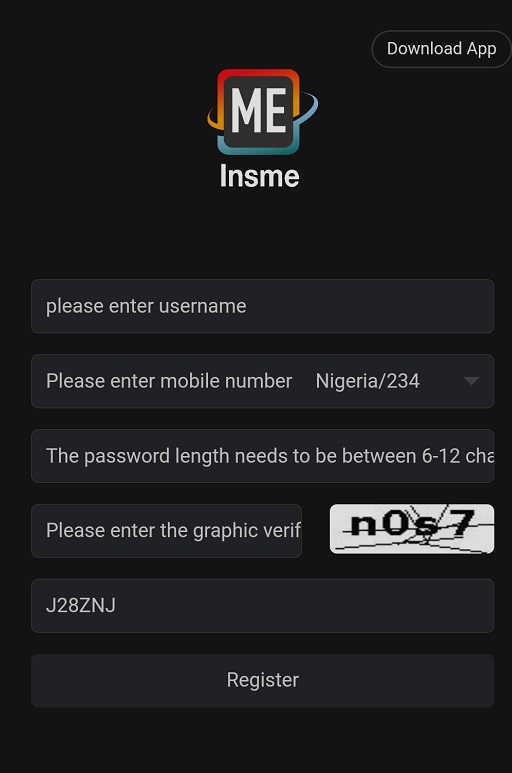 You can choose to download the insme app to login or use your browser to login
Login again, click on the ME tab and carefully fill in your profile which includes your Nigerian bank account details.
How do I Complete a Mission.
To complete a mission, click on mission, and you'll see all the mission available,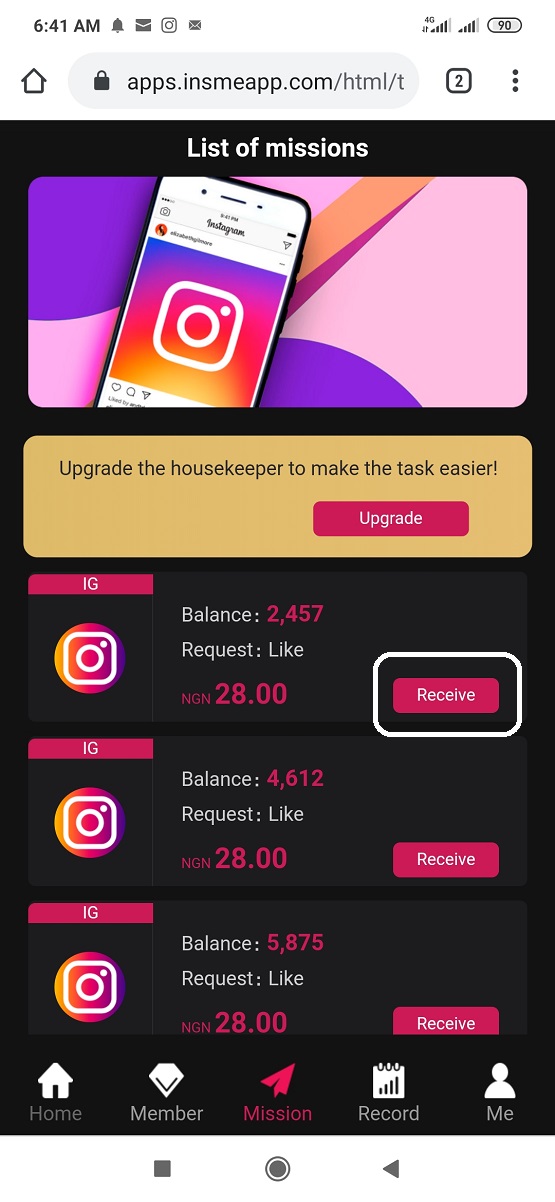 Click On RECEIVE on any mission, then tap Open Video Link and it'll Direct you to Instagram profile of a celebrity. Like the Profile or product displayed and screenshot it.
Go back to the InsMe App and click on "add screenshot". Upload the screenshot you took earlier and then click on Submit.
You'll be credited within some few minutes with #28 for the free plan. Repeat the same steps to complete more missions.
How Do I Upgrade?
Click On The MEMBER tab, located at the bottom of the screen.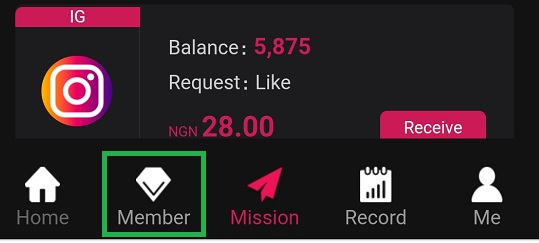 You'll see the available upgrade plans there, check the price of each packages
Click On The SIGN UP button at the top of the screen.
Click On "Pay Via payment gateway" or any other available options.
Enter your ATM card details to make payment for your chosen plan.
Once your payment is successful, Go back to the Members Tab
Click on the plan you make payment for and click upgrade below it.
Insme Packages Available
By signing up for the free membership, one can get up to 2 missions or tasks daily for the next 10 consecutive days after registration. Below is a summary of all the packages;
Free Package
Subscription fee: Free
Mission daily: 2
Validity: 3 days.
First Package
Subscription fee: N1680
Mission daily: 3
Per Pay Mission: N28
Validity: 60 days.
Second Package
Subscription fee: N6888
Mission daily: 5
Per Pay Mission: N69
Validity: 60 days.
Third Package
Subscription fee: N62888
Mission daily: 25
Per Pay Mission: N125
Validity: 60 days.
Fourth Package
Subscription fee: N148888
Mission daily: 38
Per Pay Mission: N195
Validity: 60 days.
Fifth Package
Subscription fee: N298888
Mission daily: 70
Per Pay Mission: N213
Validity: 60 days.
Sixth Package
Subscription fee: N638888
Mission daily: 140
Per Pay Mission: N228
Validity: 60 days.
Seventh Package
Subscription fee: N1488888
Mission daily: 290
Per Pay Mission: N256
Validity: 60 days.
Eighth Package
Subscription fee: N2988888
Mission daily: 580
Per Pay Mission: N258
Validity: 60 days.
Ninth Package
Subscription fee: N6388888
Mission daily: 1238
Per Pay Mission: N283
Validity: 60 days.
How to Make Withdrawals
You can make withdrawals at any time, the minimum amount you can withdraw at the time of writing is N200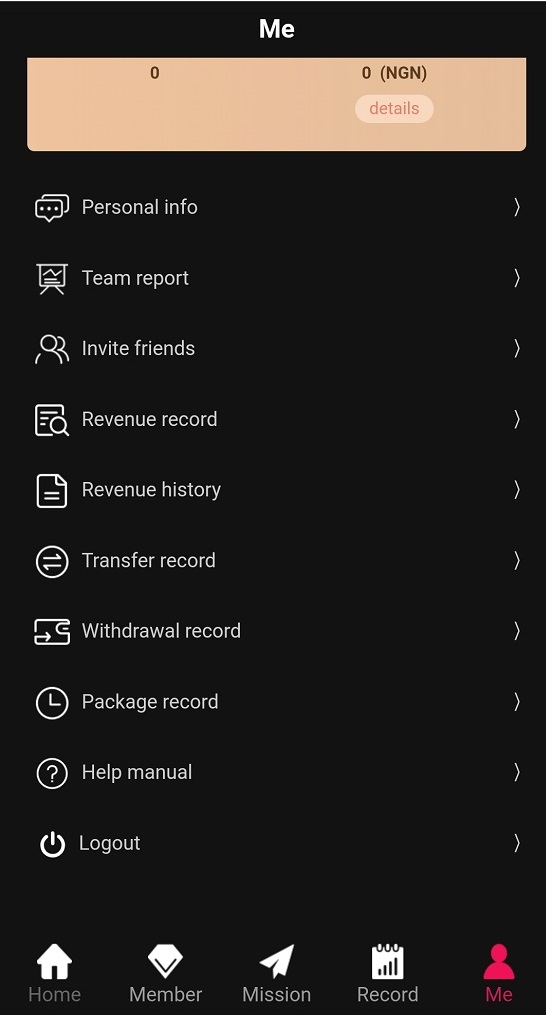 >>To withdraw your earnings, Click On the ME icon located at the bottom right hand corner of the app.
>>Click On Personal Info
>>Click on Banking Info and then update your bank details if you haven't fill it before
>>Go back to the personal info and Click On security code.
>>Set up a secure withdrawal code of your choice.
>>Go back to ME tab again and click on ENCRYPTED WALLET beside your available balance.
>>Click On withdrawal, fill in your bank details and security code and Submit.
>>Your Bank account will be credited within 24hrs.
Is Insme Legit or Scam?
As at the time of writing this article, The InsMe is confirmed to be 100% legit and paying.
InsMe is also an authorized and registered Company in Nigeria and other countries of the world.
The platform is also in partnership with Instagram and derived their stable source of revenues from the Instagram Platform.
Make your choice.