This is a new report coming from IDC and we are about to experience yet another decline in the smartphone shipment – an estimated 1.39 billion units will be moved in 2019, which is 0.8% less than in 2018.
The smartphone shipments will dip to 1.39 billion this year. Although, the market seems to recover in the second half of 2019 with the year-on-year growth of 2.3%.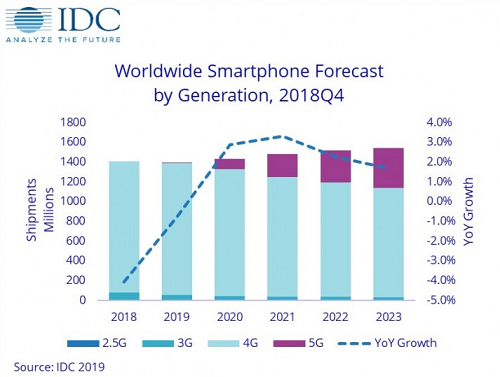 As per the report, the smartphone market is expected to be back on the growth path by the end of this year. 5G and foldable smartphones are also going to cater for the growth in the upcoming few years. IDC expects that 1 in 4 devices shipped in 2023 will carry a 5G modem.
In the year 2019, the industry is expected to witness new advancements with the introduction of foldable devices and 5G smartphones.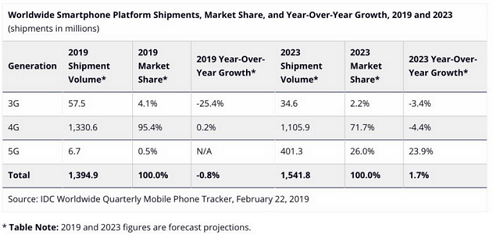 Mainly, 5G phones are supposed to represent 0.5 percent of the total smartphones shipments among 1.395 billion smartphone volumes. Although,  at snail's pace the 5G shipments will only grow upto 26% in 2023. In other words out of 1541 billion of total shipments 26% percent will be 5G devices. In 2023, the year-on-year growth of smartphones will be at 1.7 percent.
(source)