Let me guess… You must have been seeing posters of First Money POS Business in some strategic locations but don't know how to about it. Is it viable? Should I venture into such business?
POS business can be otherwise known as agent banking business. It involves the transfer of funds, withdrawal of funds, sale of recharge cards and bill payments like GoTv, DStv, Startimes, and PHCN Bill services.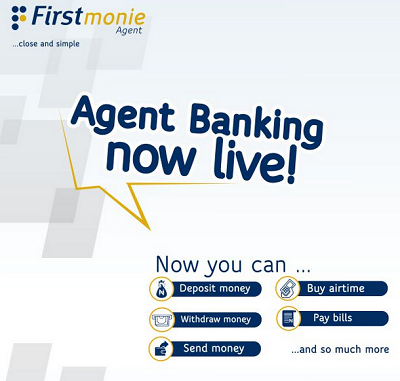 This business is an extension of services offered by financial institutions like banks through which customers get convenience. Therefore the fee you charge customers for these services is called convenience fee.
The central bank of Nigeria in a bit for financial inclusion has thrown opens this opportunity. An avenue to create wealth.
The truth is, if you are in a location where no banks, or ATM point, this business will thrive because people will always be in need of money and won't hesitate to pay the additional minimal charges on top.
Why is it Profitable in Nigeria?
It is profitable because you as the agent will make money from the extra fee charged on every transfer, withdrawal, bill payments and lots more. You must have readily available cash to give out because customers will come more for withdrawals than fund transfers.
What You Need to Set it UP
You can start POS business in Nigeria by getting a HOST. A host is a financial institution through which you extend their services to your customers.
This includes; First Bank, Quickteller, PAGA etc.
Getting POS Machine:
Getting a POS machine in Nigeria is absolutely free of charge, provided you get yours from one of the reputable commercial banks in the country.
In case you're wondering what the bank stands to gain from giving you the machine for free, get this clearly: the issuing bank makes money on the long term by charging a fixed commission (between 0.25% and 1.5%, depending on the bank) per transaction done through each POS terminal issued.
To get a POS machine from any bank, all you need is to have an account with the bank.
Note, however, that there are now some other organizations issuing POS machines at a one-time fee.
Location: A location where they are limited or no ATMs or Banks will do. Apart from that, there should be enough room to contain your customers, a furniture divider between you and your customers. Create a place where customers will feel free to carry out transactions.
Get Quality Banner: For your business to be known and the people within that vicinity to be aware that you create such services, you should get a banner with the inscription boldly written "POS Withdral and Fund Transfer".
Breakdown /Commission Structure of POS Agent Banking Business
Transaction Amount             Fee paid by Customer
1 Deposit (own FirstBank A/C)
1- 5,000 N50
5,000-30,000 N100
30,000-100,000 N150
100,000 + N200
2 Transfer to FirstBank
1- 30,000 N100
30,000-100,000 N150
100,000 + N200
3 Transfer to Other Banks
1-20,000 N100
20,000-100,000 N200
100,000 + N250
4 Cash Withdrawal
1-10,000 N100
10,000-100,000 N200
100,000 N300
5 Bill Payment N100
To become a First Money Agent with First bank please check this link here
Are you into this business already? Let us know what you think.