Let me make this straight, now that some of you have gotten your stimulus package from CBN, or maybe you are still waiting to get yours, here are some business ideas you can venture into that will help you make profit within a short period of time.
It is evident that some of you don't even know the business to venture into, but with the below lists, you can choose which to venture into and carve a niche for yourself. Start small and grow big…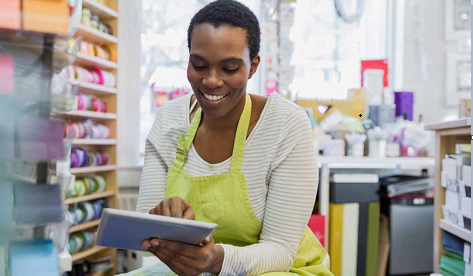 37 Business Ideas You Can Start Right Now
1. Food Stuff Selling: People eat every day; the market for food stuff selling can never go down. I mean, selling in large quantities
2. Mobile Money Merchant: E.G Quickteller Mobile money merchant, MTN Momo Agent, sending and receiving petty money. See more guide here
3. Kids Clothing: This is one area so many people don't look at. It sells very fast. You can get kids or baby clothing, shoes etc. and resale at your own price. You don't even need to have a physical store. You can sell directly from your home.
4. Frozen Food Business:
5. NGO Business: set up an NGO, where you can bring people to help train single mothers, widows and orphans in various skills like sewing, cake baking and make up and so on, and then employ them to work.
With job opportunities like this, nobody will go hungry or begging.
6. Poultry Farming Business: Having a poultry farm where you rear chickens is one sure way to earn money in your pockets. Birds are easy to rear because they mature quickly and are always on demand. These birds are mostly sold during seasons like Christmas, Easter, weddings and parties for consumption making poultry farming a lucrative business to delve into.
7. Pig Farming Business:
8. Cosmetic Business: Money or no money, people must rub cream, people must buy powder
9. Viewing Center/ Betting Business: Football Viewing Centre Business is a lucrative business that needs a lot of strategic Planning to start. Football is loved by almost everybody and the profit is endless.
10. Bakery Business:
11. Indomie Distributor business:
12. Catering business:
13. Mini Supermaket, Provision store or cosmetics:
14. Even center Business: Get a land or half plot depending on how much you have, and build an event center where people can rent for their weddings, reception etc.
15. Transportation business: Depending on how much you have, get 2 buses, and the drivers would in turn deliver an agreed sum of money daily
16. Car Wash, Barbing and Hair dressing saloon at the same venue not forgetting grill and BBQ joint. All this will go hand in hand. 500-1m is enough to start this biz
17. Baby Boutique business:
18. Baby Diapers and Wipes business: Different brands. Babies are born every day so there is an everyday market for such business. OR
19. Open a car wash and a laundry mat at the same place and have someone preparing barbecue fish and chips(both plantain and potatoes) and of course sodas in front.
20. Be a Distributor for Honewell, Semolina, Golden Penny, Semovita:
21. Rental Business: involves leasing out plastic tables, chairs and canopies, at an agreed fee, to people organizing ceremonies. It is one business that generates steady passive income. To start is very easy..,
22. Eatery or Restaurant Business: If you can cook very well, then you can start an eatery/ restaurant business. It requires capital to start and it is very profitable on the long run. You should set up your restaurant at a populated location especially near government and other firms.
23. Mini Importation Business: This is by far what most people engage in nowadays in Nigeria before the coronavirus pandemic began. If you source through the internet, you would find many e-books on how to import cheap goods from abroad and sell them here in Nigeria. Items like wrist watches, female and male wears, shoes, second-hand phones are examples of items you could import.
You can as well download this beginners guide importation e-book here
24. Dry Cleaning Business: This is one of the sure businesses that you can earn money from. When doing such business, you should target people like bankers, corporate organisations, business men, e.t.c. These set of people patronize dry cleaners a lot because they can't wash their clothes themselves due to the nature of their jobs.
25. Second hand Items Business: Second hand items like used phones, clothes, phone casing, shoes can all be sold to make profit. You will need to create a network of customers for these business to thrive.
26. Snail Farming Business: Snail Farming: In Nigeria, snail farming is more popular due to its relatively cheap cost of startup and if you market your products well, your business will thrive. This is a business you can start from your backyard, they millions of eggs but patience is required as it can take almost a year to mature.
27. Fairly Used Clothes: Such as Jeans, Tops, t-shirts, shoes etc. They could be sourced at Badagry, even Cotonou. 100K can't get you a bale but you can select and mix them. Wash them and package neatly. Good packaging will bring you more customers… hence you'll see your money multiply.
28. Aba Market: Schedule a trip to Aba Market, The cost of production of boxers, you can get one for as low as N300, all you need is to package it in 3s, and market these babies properly or better still beg your friends on twitter for RTs, we men buy 3s pack boxers for N1500-N2500… You can sell yours little lower than that and gradually grow your profit.
29. Shirt Production: A sweet side hustles. There are tailors in Lagos Island or environs or you can better learn the skill it will save you all the heartbreaks imaginable. Taiwo street in Lagos Island is where you should be. Materials ranging from N700 – N1000 per yard, sew for N1500/2k and sell for N5000 – N7000
30. Bedsheet/Beddings Production. Pay a visit to Lagos Island, or Oshodi where they sell bulk materials, pick good designs and there are guys who will sew it for you within the same market. You can start with less than 100K and diligently grow your money.
31. Mobile and Electronic Accessories: Such as Pouches, Chargers, USB cables HDMI cables, earphones and more can be sourced from Alibaba, AliExpress, Deal Extreme etc. I once posted something related to that few years ago here. The more you buy the lower the price. And they are lite so shipping won't be a burden. You can sell it on Jumia or Instagram etc.
32. Production of Smoothies, cocktail, small chops, cupcakes and chinchin. The importance of this combo can't be ruled out. You can render these services with 100k startup capital + proper marketing, branding and packaging.
33. Aso-Oke Beading and Stoning has become sometimes in vogue now, and this is another sweet business one can start with 100k. You just have to learn how to bead and unlock your creative mind.
34. Adire: This is most common in Abeokuta Nigeria where you can get one adire for N2000 and sell for N5000. Guys/ladies use it to sow befitting dresses, stylish dresses etc. You can even act as a mini supplier to tailors and other people who wish to resell them.
35. Egg Supply and Distribution Business: Eggs are used to make many products such as confectioneries, cosmetics, soaps, hair conditioners, shampoo, glue and face masks amongst many others.
Supply of eggs is a business that can be started on a small scale and grow to become a big venture. If you want to go into this business, the first thing you must do is to identify poultry farms that produce quality eggs and/or large egg distributors.
Then develop a network of buyers who are many and varied around your neighborhood. To succeed, you just need empty egg crates and a delivery van.
36. Forex Trading: This is area is ever green, lucrative but the rule applies, don't be too greedy. Check out more info here
37. Finally, Re-invest Your Capital: Regardless of the profit you are making, always reinvest it. My head is full and with time, I'll update this post for more business ideas.
If you have any question or business ideas you wish to contribute to the list, please use the comment.
Via | YomiProf