Those of you that applied for the CBN stimulus package should have gotten your loan in your account already. At least lots of people that applied near me have gotten theirs.  Please let us know if you have gotten yours from Nirsal.
Some of you are still contemplating if you should apply or not, but I'll advise you should take advantage of it, and apply and we won't mind sharing some business ideas with you. Whether you have been badly hit by the ongoing covid19 pandemic, the best time to apply for this stimulus package is now.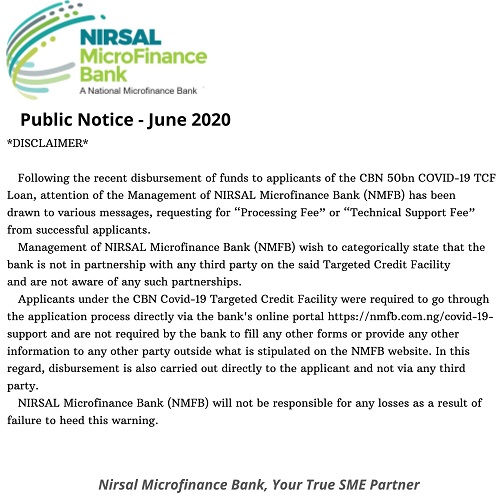 If your application was successful, you'll get disbursement in the coming weeks. The CBN had introduced the N50bn Targeted Credit Facility as a stimulus package to support households and Micro, Small, and Medium Enterprises affected by the COVID-19 pandemic.
The N50bn intervention is being financed from the Micro, Small and Medium Enterprises Development Fund.
In terms of limit, the loan amount would be determined based on the activity, cash flow, and industry size of the beneficiary, subject to a maximum of N25m for SMEs.
Households can access a maximum of N3m while working capital would be a maximum of 25 percent of the average of the previous three years' annual turnover.
If you are yet to apply, you can apply here https://nmfb.com.ng/covid-19-support/ and make sure you complete your applications and submit. See more details about eligibility here.
You can also download the NIRSAL Android app here for easy application
Let us know in the comment if you applied and the money has been disbursed to your account.
Via | YomiProf