Do you know that
AliExpress
is one of
the best site where you can shop and buy anything online at a more cheaper rate and have it
shipped to your house address.
I recommend Aliexpress.com because they
have greater and better advantage than Amazon in terms of:
Shipping Cost:
there ship cost is relatively low when compared to that of Amazon.com.
Affordable:
products from Aliexpress.com are affordable; you can get mini laptops from
their website for a little price of $100 or less. Just like the first time I
bought a Jacket for $5 and have it shipped to my address in less than two
weeks.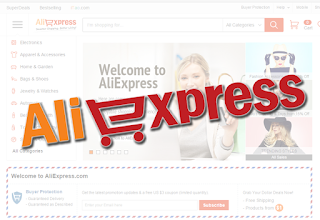 Wholesale Discounts:
if you are buying at a bulk rate from aliexpress.com, you will be granted
discounts on good purchase from them. Bulk purchasing is a good option for
Nigerians and other African countries who want to go into importation biz.
Return Policy: If the product is
defective, you can return it within a speculated period of time.
What You Need to Stop Shopping on
AliExpress
==>Your debit/credit master card of
any bank. If you are shopping from Nigeria, most commercial bank Master
card/Visa card now works effective on Aliexpress.
==>You need a Smartphone or a Laptop
with access to the internet.
==>Aliexpress buyer account. Open
one here
How Can I Start Buying From AliExpress?
==>First of all search for what you
intend to buy
here
==>Once you've seen the product,
check reviews made by existing buyers and click on buy if you are satisfied
==>Make payment for goods using your
Master/Visa/debit card
==>Your shipment will be received
and a copy of the receipt will be sent to your email address.
Have you shopped on AliExpress before?
Tell us your experience using the comment box.