This is a
simple but unique tutorial that will blow your mind in minutes. Though you must
have seen a lot of adverst asking you to buy this tutorial am about to share
with you.
Should in
case you are thinking of going into laptop business or phones business, this is
the best tutorial you need to learn; it will teach you how you can be making
nothing less than #300,000 and above monthly.
The first
thing I will be sharing with you is from 
www.usanotebook.com
and they are based on refurbished laptops. I mean
good and great refurbished laptops. Look at the image below;
Did you see
a Gateway laptop that goes for just $199, webcam and 160GB hard disk, coupled with
6month warranty? I bet you, you will not finish this kind of offer any where in
this country.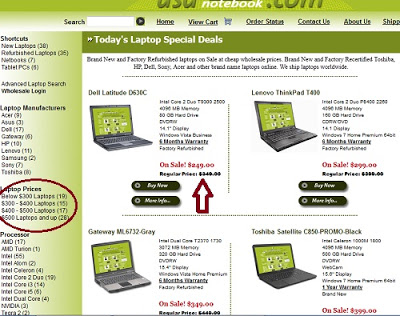 But wait, there is something else that caught my
attention, look at the image below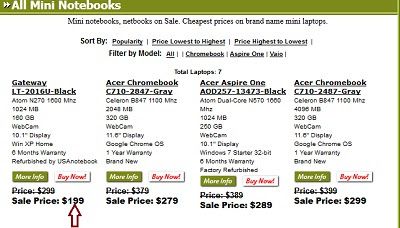 Did you see
Dell Latitude 4030MB, 80GB and direct from factory; it only goes for $249 i.e
less than #40,000 with 6months warranty. With this laptop in my hand, I won't
sell it for anything less than #60,000.
I know your
lips are wet already. Then let's ride on.
The second method I will share with you is from www.alibaba.com and I bet you that all
laptops sold on this site are 100% new. Look at the image below: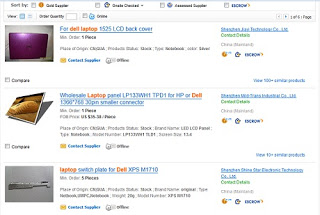 Strangely
most of the laptop offers presently don't have the prices stated by the owners,
which means they are up for negotiation. All you need to do is to send them a
mail and state your interest and then you will get an answer from them.
The
third  method I want to share with you is
a popular website called:
www.amazon.com
Here
is how to do it, that I guess you never knew before. Go to:
www.amazon.com
and then narrow your
search to Electronics – laptops. You should have something similar to the image
below: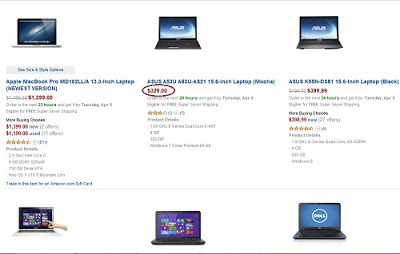 I also
want you to notice the  laptop price that
I circled, it's  sold for under $329 [remember this is just one
 out of more than 300,000 options
to choose from]. If you can get a laptop of such high standard which is about
#52,000 and then sell it for like #70k; then you  will realize a profit of #18,000.
So
if you are interested in any of the laptops, just click the picture and a full
guide about the laptop will be displayed.
Look at the one I circled
in red product details: 1.65
GHz E-Series Dual-Core E-450, 4 GB Ram, 320 GB hard drive and Windows 7 Home
Premium 64-bit. Not only that, they will ship it for you free of charge.
If
you search further, you will get laptops for as cheap as $200 and they are 100% NEW
and even if they are not, you can be sure that Amazon will not sell something
of low quality.
You
see as simple as these methods are, some people are already building a N500, 000 to N2 Million a month business from it. There
are a whole lot's I would have shared with you but for now, I will pulse here.
Should in case you have any questions, don't hesitate to drop your comment.