I will be sharing with you today on how to get 5MB daily with you MTN line. The
other day, I shared with you on  how toget 50MB for free with you mtn line just click and follow the link.  You
don't need to waste #100 to subscribe for 10mb daily plan when you can use #10
to get 10MB. I don't know if this is competition stuffs but MTN is sure making
browsing easier and better in Nigeria. I remember when i used to subscribe for
10MB daily plan with #100 and was like how am i going to finish this stuff.
Today with #10, you can get 10mb.

How Can I get 5MB With #5 Using My MTN Line
This is how to get it;
1. Make sure you are on mtn pulse. If you are not, migrate by dailing *406#
to migrate to Pulse.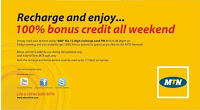 2. Dail *406*1# and #5 will be deducted from you account at thesame time,
5mb will be given to you.
3. You can repeat this process over and over again to get more of that MB.
Their is something you guys don't understand for now, mtn pulse is still one
of the best package you can migrate to with lesser call rate. Imagine how i
make over 10 minute call with just #40. I was like wondering, what is wrong
with mtn? Not until when I realise that I was been charged 8 kobo per second.
Well guys, enjoy and flex it while it last.