Technology is indeed going ahead of human and in order not
to be left behind; you need to join the moving flight. In a short while from
now, you will find it boring to use your ATM card for shopping or paying
online, POS probably will be outdated because I can't imagine me want to make
payment online and I had to fill series of form, login and log out before
payment will be made… that's so stressful.
An application is about to be launch in September '14 that
will allow you to make payments via your phone camera. It sounds awkward right?
Well Snerpie Pay will do that for you.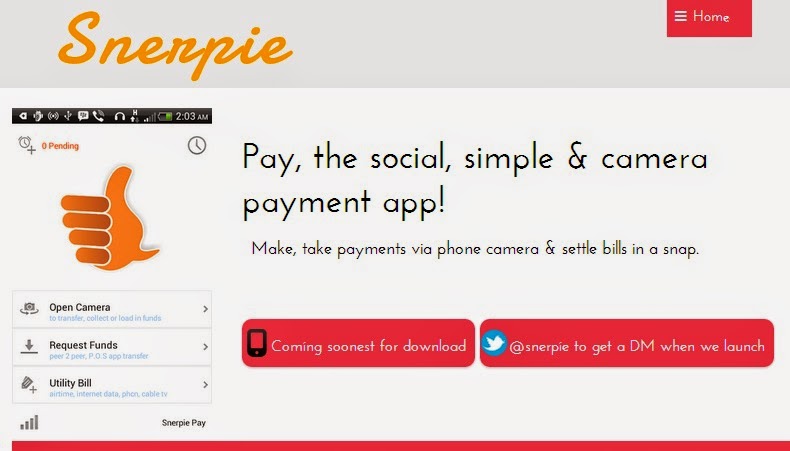 Snerpie Pay
is an application yet to be launch, it will
allow you to make payments via your phone camera; according to the developer,
this app will change how we do payments from old fashioned SMS method,
web login, low-efficient black & white hardware, filling of form that's
equal to opening a bank account.
Snerpie Pay is accepted Online, Peer-2-Peer, P.O.S, Utility Bills, Donations
and all other platforms for making and taking payments.
No more worries about your Personal Banking Information & Log in being
hijacked, with snerpie pay you need not to provide any vital details to make or
take payments.
Supported SmartPhones
It will be available for
Android
,
iPhone
&
Blackberry
phones…
Windows phone
users should back off.
You can keep up with the developer
on twitter
follow Snerpie
so that you can get a personal DM when the app is launch in
September. But the developer site is Static. You can check it out
here
The question is will you support
this upcoming innovation?