DHL Express is introducing an amazing new platform for online shoppers in Africa – dubbed Africa eShop.
DHL Africa eShop is an e-commerce platform that enables consumers to shop directly from over 200 US and UK online stores, with delivery of their purchases straight to their door.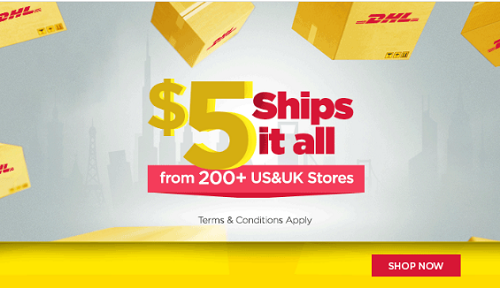 DHL has leveraged its logistics expertise to bring shoppers in Africa a cost effective, efficient and secure online shopping solution whereby they can order from stores like Amazon, Macy's and Next, select whatever item they want, buy it instantly online in their local currency and know that in a matter of days, they will receive it at their desired location.
To celebrate the launch of this platform, DHL is giving the first 1000 shoppers from the participating countries across Africa, the chance to ship their entire order for only $5.
All shoppers have to do is download the App from the Google Play store for Android devices or the iOS App store for Apple devices. Alternatively, you can visit the website www.africa-eshop.dhl, to install all versions of the App including the Chrome extension and start shopping from over 200 online stores in the US/UK.
The promo is valid on items that weigh 1kg or less.