The latest update for Chrome is here and the long awaited dark mode is now enabled in Chrome 74. It is officially rolling out to Windows, Mac, and Linux, marking the introduction of a new dark mode for Windows 10 users.
While Google is enabling this new dark mode on Windows, the company hasn't fully switched it on for all Chrome users just yet. But there is a trick you can use to enable it.
For this to work, you'll need to modify a shortcut file on your desktop. Here's what you need to do: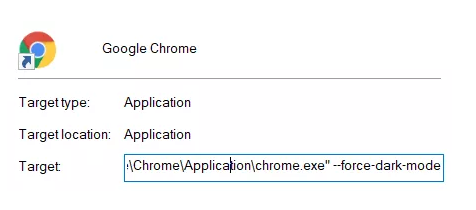 Right-click the Chrome shortcut
Add one space and "–force-dark-mode" (without quotes) to the end of the 'Target'.
Apply changes
Launch Chrome and dark mode will be enabled. If you usually launch Chrome from a pinned taskbar item, you'll need to right click the shortcut trick and then unpin / pin to taskbar again for this to hold
Chrome 74 also brings the option to disable animations that might cause motion sickness for some users. It also changes a policy to block websites from opening new pages as you try to close them.
You can update your chrome browser from help > About Chrome

Source link