Android 10 was announced few weeks back and amazingly, different OEMs has schedule when it will update it on their devices. However, here are the lists of Samsung smartphones that will be receiving Android 10.
It appears all the Samsung 2019 will get the update to Android 10 including the mid-ranged Samsung devices.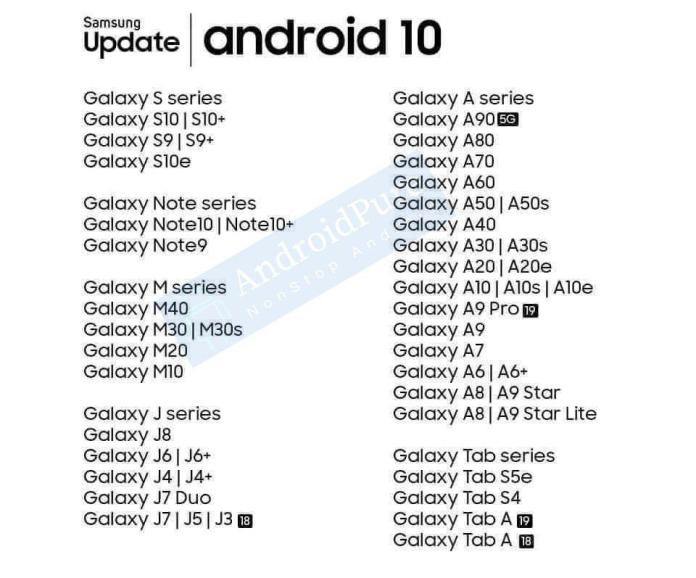 Samsung Android 10 Update list of eligible devices
Galaxy S Series
Galaxy S10
Galaxy S10+
Galaxy S10e
Galaxy S9
Galaxy S9+
Galaxy Note Series
Galaxy Note10
Galaxy Note10+
Galaxy Note9
Galaxy M Series
Galaxy M40
Galaxy M30
Galaxy M30s
Galaxy M20
Galaxy M10
Galaxy J Series
Galaxy J8
Galaxy J6
Galaxy J6+
Galaxy J4
Galaxy J4+
Galaxy J7 Duo
Galaxy J7 2018
Galaxy J5 2018
Galaxy J3 2018
Galaxy A Series
Galaxy A90 5G
Galaxy A80
Galaxy A70
Galaxy A60
Galaxy A50
Galaxy A50s
Galaxy A40
Galaxy A30
Galaxy A30s
Galaxy A20
Galaxy A20e
Galaxy A10
Galaxy A10s
Galaxy A10e
Galaxy A9 Pro 2019
Galaxy A9
Galaxy A7
Galaxy A6
Galaxy A6+
Galaxy A8
Galaxy A8 Star Lite
Galaxy A9
Galaxy A9 Star Lite
Galaxy Tab Series
Galaxy Tab S5e
Galaxy Tab S4
Galaxy Tab A 2019
Galaxy Tab A 2018
At the moment, there is no time-frame of when it will be rolled out but we are hopeful.