Yesterday we announced to you that MTN Nigeria is making 575 million of its shares available to the public at N169 per unit, and sales will open at 8:00 am on December 1 and close at 5:00 pm on December 14.
The minimum subscription is for 20 shares and lots of 20 shares thereafter. The Offer includes an incentive in the form of 1 free share for every 20 shares purchased, subject to a maximum of 250 free shares per investor.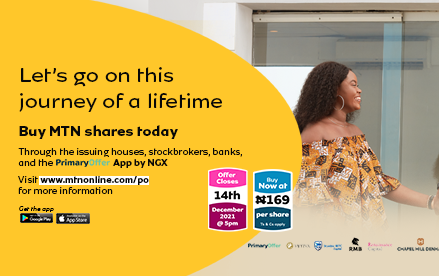 How to Buy MTN Nigeria Shares
You can apply for your shares digitally through the PrimaryOffer app by NGX
Visit the PrimaryOffer website www.primaryofferng.com by NGX; or
– Download the PrimaryOffer app by NGX from the App Store for IOS here and the Google Play store for Android devices here
A BVN, CHN, and CSCS Number is required to register and submit an application on PrimaryOffer.
MTN MoMo agents have also been trained to assist customers and provide guidance on using PrimaryOffer to apply.
Kindly download the app above, fill the form with your BVN, CHN, and CSCS Number and hit the submit button. Let us know if you have successfully purchased your shares from MTN.
Note: The stock is listed on the Nigerian stock exchange. You can see how the application form looks like.
Check more details here