Out of the 365 days in a year, there is only one day that is regarded has black Friday… because it's a day for freebies, discounted items, giveaways going for a penny.
Let me guess, you are already tired of that your home appliances, or smartphones that repels ordinary system updates, crashes at will, can't even take a clearer picture in broad day light, takes long to charge etc. That is the highest form of disrespect for any smartphone users.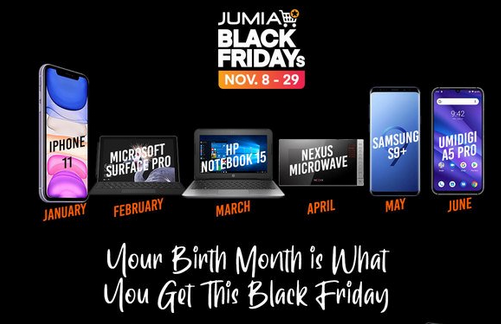 Here is the deal, safe your cash for few more days because the day is about to go BLACK.
Black Friday is a unique day in which most businesses record the highest sales and profit ever. Not only that, but goods are extremely cheaper compare to normal day.
You can actually get a laptop of N130,000 for just N59,000, or get a high end smartphone that cost N140,000 for N79,000…It's too good to be real but one of the best time of the year to get your desired stuff online or anywhere else is on Black Friday.
Cross check your gadgets, home appliances and smartphone because it's high time you get a replacement for them.
If you are using a 4GB RAM smartphone, hide your face and step up to 6GB RAM; or a smartphone with just 1 rear camera, its high time to move to Quad camera smartphone. if you are using a 32-inch HD TV, it's time to upgrade to 43-inch TV. By all means, make sure you are prepared to get something on Black Friday because it's just once in a year.
When is Black Friday?
Beginning from the month of November, most online store will communicate their dates, and I'll definitely pass it across to you but keep November 29th to Dec 1st, 2019 in your dictionary.
Stores like Jumia and Konga already picked a date.
Jumia Black Friday comes up November 8 – 29th 2019.
Konga Black Friday comes up Nov 11 – Dec 12th 2019
AliExpress 11.11 deals was just a tip of the iceberg and Black Friday deal is about to go down Nov 29. We expects to see massive discounted deals that day.
Whether you want to shop on foreign sites like Amazon, AliExpress, Gearbest, best buy, we've got you covered because we will also be sharing Coupons codes on this site to use for your Black Friday Deals.
Don't Miss out!
By the way, what will you be buying come Black Friday?