It is already more than a month MTN Nigeria closed the retail public offer's allotment shares of up to 575 million, and all successful applicants are still waiting for the share's allotment phase.
MTN is yet to allocate the shares to the retail investors as the allotment proposal was still undergoing regulatory approval review.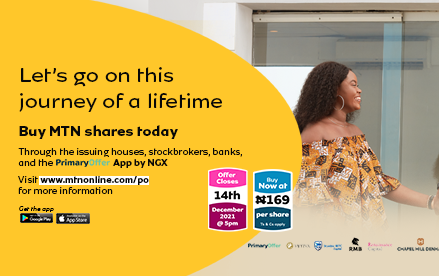 According to sources, Nigeria's apex capital market regulator, Securities and Exchange Commission (SEC) is still reviewing the allotment proposal and investors will be credited as soon as the final approval is received.
Market analysts, however, said the delay in regulatory approval undermined the digitalization of the primary offer process. The MTN offer saw the maiden deployment of the Nigerian Exchange (NGX)'s Primary Offer, a digital tool aimed at automating the primary issuance process.
The MTN Nigeria's public offer set record as the first to be delivered through a digital platform, thus facilitating maximum participation by investors. Investors were able to submit applications through the issuing houses, stockbrokers, banks and online through a unique digital application platform, PrimaryOffer, administered by the NGX.
Once the regulatory approval is complete, this is what will happen
What Next?
A public announcement will be made once the allotment process is completed and approved by the regulatory authorities.
All successful applicants will be notified by Coronation Registrars with the details of shares allotted to them.
Coronation Registrars will credit the CSCS accounts of all the successful applicants with the shares allotted to them.