If you are a lover of music and you own a smart device, then this offer is for you. Apple Music is a premium US Based digital music platform with over 100 million songs and exclusive content in its catalog.
The good news is that MTN NG has partnered with Apple Music as part of its network product. You can enjoy the first 6 months free of charge, after which you will be charged N1000 per month.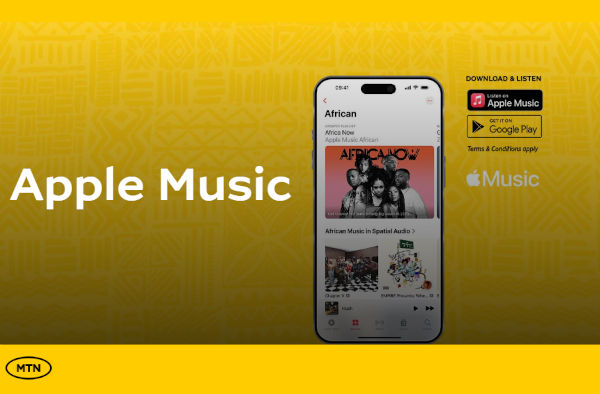 How To Subscribe to Apple Music On MTN
Via USSD: Dial *447# > Select New services > Select 4 Apple Music > select 1 for free and 2 for paid
Via SMS: Send "Music" for a monthly subscription to 8000
Other means of activating Apple Music include; MTN Play portal, mtn.ng, MyMTN App
How much is the Apple Music Subscription Fee on MTN
The free version cost: N0 I Validity 6 months (first 180 days of activation)
The paid version cost: N1000 I Validity of 30 days (Paid version)
A debit card is not required; you will be billed directly from their airtime balance
If your subscription is successful, you'll receive a message prompting you to accept with a URL attached which will lead you to download the Apple Music app on your iOS or Android devices.
Frequently Asked Questions (FAQs)
How can I opt-out/unsubscribe from the subscription plan? 
You can unsubscribe by sending any of the following shortcodes to 8000: Stop music, No music, or End music.
Do I need the internet to be able to stream music? 
Yes, you will need internet access to be able to stream or download music on the Apple Music App.
Can I use Apple Music on Android? 
Yes, download the Apple Music app on an Android phone or tablet with Android 5.0 (Lollipop) or later, or a Chromebook that supports Android apps. Go to Google Play to download the Apple Music app.