If you are still celebrating 32GB SD card, then its high
time you wake up from your slumber because another capacity of SD Card has just
been unveiled by
Sandisk
which is not in the range of 80GB or 100GB but 200GB.
Yes, 200GB. I can't imagine me having 200GB SD card and
still be short of memory… No way!
Sandisk men't real business for their
customers this 2015 most especially for those who love to watch HD movies and
store them on their device without thinking of any memory issue. According to
Sandisk, For the first time ever consumers can hold an unprecedented 20
hours of Full HD video1 on a fingernail-sized memory card.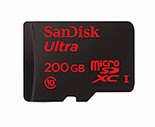 Mind you, this Premium Edition microSD card offers you the
world's highest capacity and blazingly fast transfer speed of up to 90MB/s to
deliver premium performance. At this transfer speed, consumers can expect
to move up to 1,200 photos per minute. Not only that, but this particular temperature proof SD card has more capacity than most laptops computer.
According to Sandisk, this 200GB card will be available
world wide and goes for $399.99… *side eyes*
Will you rock it?