TGIF
! Where are all the
iOS
users? This post is for you. It's
no longer news that you can't transfer files from ios Bluetooth to Android Bluetooth
which makes it more annoying and frustrating. What if you have important
documents, music, videos etc to transfer to your
iOS device
? Those who are new
to
iOS
will just hate it completely.
I'll quickly review one of the fastest way of transferring any
files at all without internet connection and its 10 times faster than normal Bluetooth
transfer.
Zapya
is one of the trendy cross-platform sharing app available
for the users of both Android, iOS and PC. This app can share files more than
100 times faster than Bluetooth connection. In other words , you can transfer
upto 200 music's files in less than 5minutes. No need of internet and mobile
data to use this app in your smart device.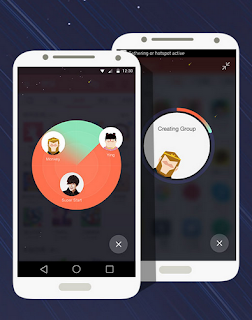 Where Can I Download it?
==>For Android download it
here
==>For iOS download it
here
==>For PC users, download it
here
How Can I Use Zapya?
==>Install and run it on your device
==>Launch Zapya on the Android device Tap the Menu icon
(the three horizontal bars at the top left of the screen) and tap Connect to
iOS.
==> A screen shows with an arbitrary network name on your
iOS menu, tap settings, Wi-Fi and connect to the arbitrary network.
==> Launch Zapya on iOS and you are good to go.
It can't be faster and better without Zapya.