One thing that made me love Android device is for the facts
that you can tweak it flip it until you milk it to your satisfactions. As long
as Android devices are concern, they are rootable. I root my device for this
most important reason, to have dominion over it completely… I don't know about
you.
This is one of the beastly device unveiled by Tecno Mobile few
weeks ago, it runs on Android 6.0 Marshmallow out of the box and I'm going to
be showing you how to root it in easy steps.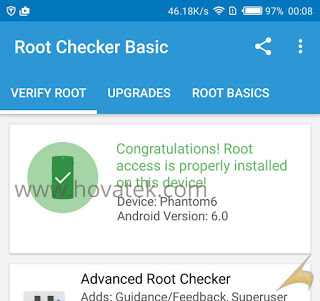 All thanks to Team Hovatek, for porting and deporting the rooting
guides.
Requirements
1. Absolute patience in following the steps involved
2.
Twrp recovery image Ported by Team Hovatek (download
here
)
3
. Super SU.zip (download it
here
)
4. Unlocking the boot-loader of Tecno Phantom 6 (A6)
How Can I Root Tecno Phantom 6?
1. Copy the downloaded Super SU to
both internal storage of your phone and SD card.
2
. Setup ADB and
Fastboot on the PC using the guide
here
3
. Extract and copy the twrp
recovery.img into the same folder as the fastboot.exe and adb.exe
4
. Unlock Tecno
Phantom 6 bootloader by following the steps
here
5
. Connect the phone to your PC via USB cord
while switched ON and boot it into Fastboot (as instructed in the Bootloader
unlock guide; remember to enable OEM unlocking and USB debugging)
6
. The moment your device enters
fast boot, flash the recovery.img to the phone by typing the command below then
pressing Enter
fastboot boot recovery.img

7. The device should automatically
enter twrp recovery mode
In TWRP, if you get a prompt asking you to swipe to allow
modification of the System partition, tap KEEP READ ONLY
If TWRP offers to root the phone, select NO
8. In TWRP recovery, tap Install
9. Navigate to the location of the SuperSU2.76.zip and
select it
10. Swipe to confirm flashing of SuperSU.zip and wait till
flashing is complete
Reboot the phone normally.
Once you are
done, confirm if your device has been successfully rooted by installing root
checker.