It is not a rumor anymore – new Nokia phones will be
announced within next year's first half. And I'm not talking about feature
phones advertised for their waterproof keypad and their flashlight. These will
be Nokia-branded smartphones of a new generation.
Nokia
might have failed to upgrade when
iPhone
and
Android
phones
were revolutionizing the cell phone industry, before Microsoft kicked their
right ass out of business. But this time, they are coming out strong, strengthen
with more strategies on how to capture what they lost to
infidel
mobile
industries.
Things You Should Know About The Forth Coming Nokia Devices.
>> Nokia aren't coming from the same company that
brought us the N-series, PureView and the iconic Nokia 3310
>> The Nokia brand name has been licensed to HMD
Global Oy, who will be in charge of developing Nokia phones and tablets for the
next 10 years. Meanwhile, manufacturing will be handled by the Taiwanese
Foxconn – the same company that Apple hires to make iPhones
>>From speculations, more Nokia smartphones will be
announced 2017
>>Two Nokia smartphones running Android OS are
expected to be launched early 2017
>> It is believed that the upcoming Nokia's may run a
largely bloat-free, near-stock version of Android.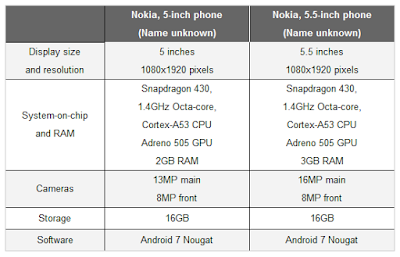 >>The two Nokia phones might be made of metal on the
outside, with flat sides and a humpy back, capacitive keys and a fingerprint
reader under the screen.
Note: these are mere speculations and has not been
officially confirmed.