What will you do if you discover that your recent purchased
Infinix Zero 4
is fake after spending huge amount of money to get it? I Know it
sounds weird but a lot of people have fallen victims of fake smartphones most
especially
Infinix devices
.
If it's not original, it can never be like original. Infinix
has put in measures to checkmate counterfeit Infinix smartphones in the market
beginning from the one you are holding.
Some of you might even be using original Infinix smartphones
but your battery might be fake…
How Can I Check If my Infinix Smartphone and Battery is
Original or Fake
Before you begin, you need to get your
IMEI
and VC Number.
For IMEI, dial *#06#
For VC number (check on the battery or phone, It is usually
below the battery)
Steps to check if your Infinix is Genuine or Fake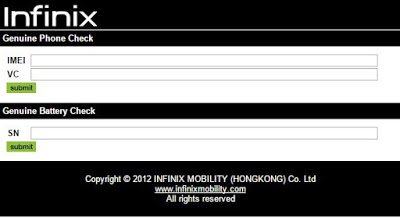 2. Input your IMEI and VC number
3. Hit the submit button and wait for result
You'll get an info if your Infinix is genuine or fake. The same
is applicable to the battery.