Bitcoin's painful 2018 crash continues, with the original cryptocurrency touching the lowest in more than a month on Monday.
Falling as much as 5.2 percent since the weekend, the largest digital asset in the space dragged the Bloomberg Galaxy Crypto Index to its worst decline in more than two weeks. Ether and Bitcoin Cash both fell more than 10 percent.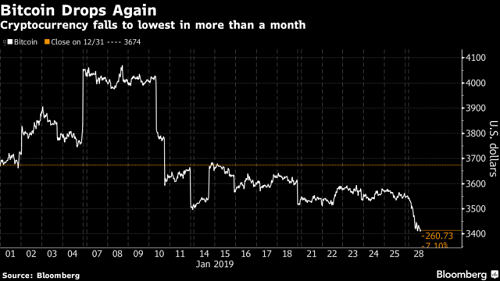 And now, Cryto exchanges are beginning to shut down. Liqui, a small but a long-running crypto trading company, announced yesterday that it would close down its operations . In a straightforward goodbye note. The Ukrainian exchange said that it was unable to provide liquidity to its customers.
The exchange purge has started. @Liqui_Exchange is closing.

I believe many more, especially smaller exchanges will follow. The bull market forced them to make large investments in their IT infrastructure, and the bear market dried out the trading volume.

— Jimmy McShill (@JimmyMcShill) January 28, 2019
It's been a disappointing start of the year for crypto investors, who hoped that the pain of the downturn was behind them. More than $400 billion in market value was wiped out in the past 12 months as widespread adoption failed to materialize, according to data from CoinMarketCap.com.
Miners admitted that minting cheap cryptocurrencies had turned uneconomical for them… and this is just the beginning of the death of crypto exchanges.