Apple is teasing the future of its software, and it's dark. Apple is bringing dark mode to iOS 13, the new version of its mobile operating system.
The company says the mode will be available across all its native apps, and can also be used by third-party app developers. Users can set iOS 13's dark mode to turn on automatically at either a set time or at sunset.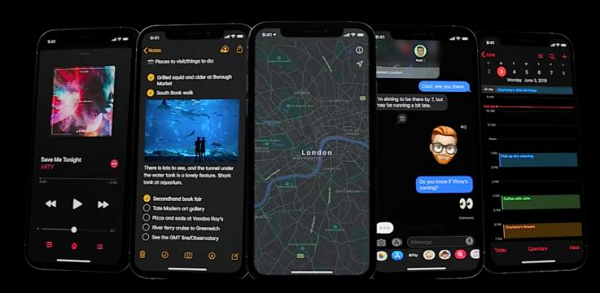 iTunes will be phased out after 18 years, replaced with three seperate apps that are familiar to iOS users: Apple Music, Apple TV and Apple Podcasts. However, iTunes store will still exist on iOS and Macs.
Here are all the Devices getting iOS 13 and iPadOS
iOS 13 is coming to the following devices:
iPhone XS
iPhone XS Max
iPhone XR
iPhone X
iPhone 8
iPhone 8 Plus
iPhone 7
iPhone 7 Plus
iPhone 6S
iPhone 6S Plus
iPhone SE
iPod Touch (seventh generation)
iPhone 5S, iPhone 6, iPhone 6 Plus won't be getting this update going forward.
As for the newly renamed iPadOS, it'll be coming to the following iPad devices:
iPad Pro (12.9-inch)
iPad Pro (11-inch)
iPad Pro (10.5-inch)
iPad Pro (9.7-inch)
iPad (sixth generation)
iPad (fifth generation)
iPad mini (fifth generation)
iPad mini 4
iPad Air (third generation)
iPad Air 2
Original iPad Air and the iPad mini 2 won't be getting the update, which previously had gotten iOS 12.