Apple has launched its first dedicated operating system for the iPad, making it easier to multitask, manage files and use Apple Pencil.
I must say, this is the best thing that has ever happened to iPad in years. Announced at Apples Worldwide  Developers conference, iPadOS offers incredible  range of new customizable facilities that set it apart from the iPhone.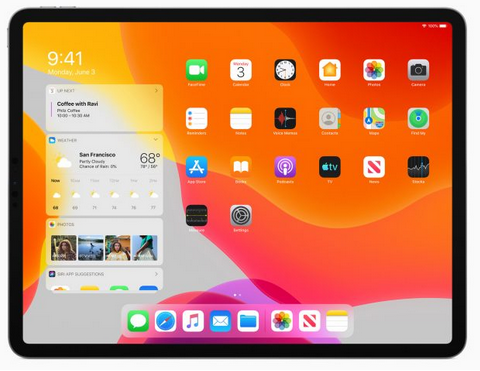 Apple iPadOS could transform your iPad into a proper desktop replacement, makes it easier to manage files and multitasking. First off, the home screen, available in dark mode includes a widget called Today view, displays apps as it always has.
users can now create a custom widget called Today View, which offers quick access to widgets, offering the latest headlines, weather forecasts, calendar updates and other at-a-glance information.
Here is the Breakdown of Apple iPadOS
Slide Over and Split view: which allows you to work with multiple apps on the iPad effortlessly.
Apps in Multiple Spaces: where you can work with the same app in split view
App Expose: where you can see all the various windows you are currently engaged in.
You can pin your widgets on your Homescreen.
Floating keyboard: that you can move around for quick one handed typing and more room for your apps.
Install fonts from the App Store for use in your documents.
Redesigned Files app: which gives you a more detailed view of your files. Also includes more controls to do what you want with them.
iCloud Drive Folder Sharing: where you can collaborate on files and documents with shared folders.
External drives: support where you can connect your USB drives, SD card reader or external hard drive.
New Photos Tab: which will show you a curated view of your best moments from every day, month and year.
iPads Compatible with iPadOS
iPad Pro (12.9-inch)
iPad Pro (11-inch)
iPad Pro (10.5-inch)
iPad Pro (9.7-inch)
iPad (sixth generation)
iPad (fifth generation)
iPad mini (fifth generation)
iPad mini 4
iPad Air (third generation)
iPad Air 2
Original iPad Air and the iPad mini 2 won't be getting the update, which previously had gotten iOS 12.