This is incredible, the smartphone was announced last week and according to the spec sheet, it is the best budget smartphone of the year.
The smartphone went on sale today in China and within 10 minutes, it sold over 300,000 copies. The next round of sales according to the manager will takes place Sept 6th.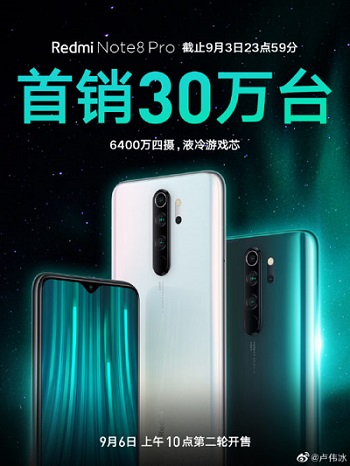 For your information, Xiaomi Redmi Note 8 Pro out performed Xiaomi Redmi Note 7 Pro in its first day sales.
The Redmi Note 8 Pro features a Helio G90T processor, 6GB to 8GB of RAM, and 64GB to 128GB of expandable storage. Redmi's latest Pro model also sports a quad rear camera setup (64MP, 8MP ultra-wide, 2MP depth, 2MP macro) and a 4,500mAh battery.
Redmi Note 8 Pro starting price from $200 and above. It is still on Preslae on various stores
You can check out this store to pre-order it