Happy new month friends… here is the latest update from the popular instant chat messenger WhatsApp, disappearing messages.
WhatsApp is working on a new feature expected to roll out to all users once completed. It is called the disappearing messages feature.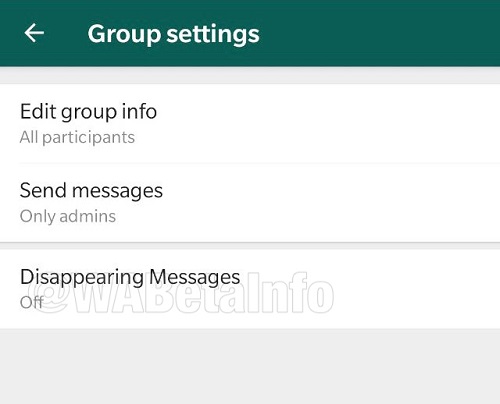 Disappearing Messages
Any messages you set to disappear after a while will be automatically deleted from the chat! A message is eligible to be disappeared when the chat is marked as "disappeared". All messages will be automatically removed after a certain interval, if marked as disappeared.
This option will be available to Groups and can be accessed from group info with options to set when you want your message to disappear.
Once you TAP on the disappearing message, you'll be presented with the option to set when you want your chat to disappear, either 5 seconds, 1 hour or completely turn it off.
Note that once you set it to your desired intervals, your chat will automatically disappear without any form of traces from chat history.
The feature (WhatsApp disappearing messages) is currently in alpha-development stage and we will be available for groups and private chat in the future updates.
(source)