Smartphone battery is one of the most important features to look out for when buying a new phone. But most times, after sometimes, and you notice the battery tends to drain from 100% to 50%, and then shut down unceremoniously…
Battery drain is common to some smartphone, but can be fixed… If your smartphone battery no longer last you like the way its suppose to then you need to check if you have any of the apps listed below installed on your device which may likely be the culprit for draining your battery.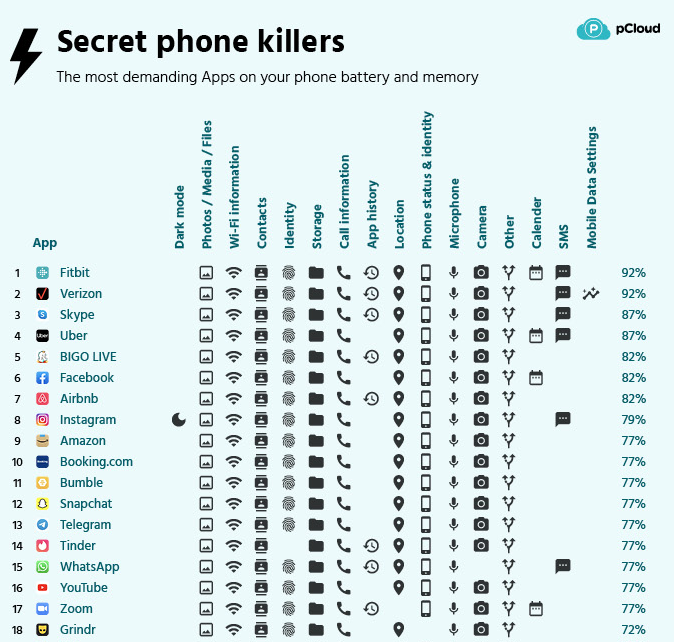 Top 10 Apps Secretly Killing Your Smartphone Battery
Fitbit
Uber
Skype
Facebook
Airbnb
Instagram
Tinder
Bumble
Snapchat
WhatsApp
In as much as it is good to download enough applications on your device, it is still good to check if you actually need them or not. Because some of these apps are secret battery killers. According to Pcloud, "No matter how great these platforms are, according to the entity, they are affecting the battery life really hard."
The research firm looked at three factors when determining which apps were the most resource-intensive on our phones. The things each app uses, such as the location or camera, the battery these applications consume, and whether the dark mode is offered.
They were able to determine which of the 100 most popular apps is the most demanding and name them the ultimate phone killers by combining the results of these three factors.
Top 20 Apps That Takes Up Your Phone Memory
Lift
Uber
Fitbit
Facebook
Uber Eats
PayPal
Microsoft Teams
YouTube
TikTok
LinkedIn
SnapChat
Yelp
Slack
Instagram
Amtrak
Likke
Spotify
CNN
YouTube Music
Nike
You can check out the full apps killing your smartphone slowly according the statistics Pcloud provided and decided which one to remove or leave.