Those of you with PC that have still not updated to the
current
Windows 10
, I bet you are missing a lot because you just need to have the
feel, and look of what window 10 will turn your PC into. I'm aware some of us
might not be techy enough to even know how or where to download talk more of
installing it despite the fact that download link has been provided.
What You'll Miss on Window10 if You Don't Have it
==>You now have a cute personal assistant call cortana: This
personal assistant is a good reason to upgrade to Windows 10. From setting up
reminders, finding quick information about weather to performing other tasks
with voice command, Cortana definitely makes it easier working on Windows.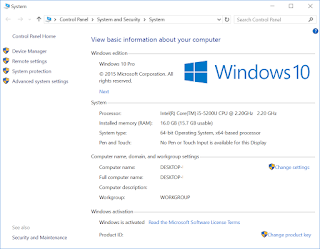 ==>It feels like windows XP + Windows 7 + Windows 8
(3in1)… are you still thinking if you should upgrade or not?
==>Action Center: The Action center feels just like the
notification center on your smartphone
==>Edge Browser: I bet you may vow never to use firefox
again because Edge browser is not just super fast but for the ideal.
…and lots more!
Now tell me why you haven't activated your PC to Windows 10,
or are you having problem activation or installing it? Use the comment box to
pen down your problem and solution will be provided.