Study, work and stay in Australia. Australia is one of the
world's leading international education destinations. Offering quality
educational with a vibrant lifestyle, Australia has many advantages
for international students which includes earning about $1,600 AUD as a student
and other benefits.
==> Study abroad expands your worldview.
In comparison with citizens of most other countries, Americans tend to be
uninformed about the world beyond the nation's boundaries. Students who study
abroad return home with an informed and much less biased perspective toward
other cultures and peoples.
==> Study abroad will help you develop skills and
give you experiences a classroom setting will never provide.
Being immersed in an entirely new cultural setting is scary at first, but it's
also exciting. It's an opportunity to discover new strengths and abilities,
conquer new challenges, and solve new problems. You will encounter situations
that are wholly unfamiliar to you and will learn to adapt and respond in
effective ways.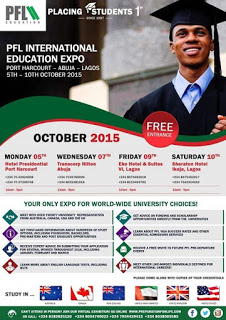 ==> Study abroad affords you the opportunity to
make friends around the world. While abroad, you will meet not
only natives to the culture in which you are studying, but also other
international students who are as far from home as yourself.
==> Study abroad enhances employment opportunities.
You have varieties of job opportunities open to you. Even while you are
schooling, you can be working… In one way or the other, it singles you out of
applicants.
==> Study abroad can enhance the value of your
degree. While abroad, you can take courses you would never have
had the opportunity to take on your home campus.
How Can I Go About It?
PFL (Preparation for Life) helps
you achieve all the above. They provide overseas students with higher education
opportunities across the world, and share details of suitable courses available
at a wide range of quality universities and study institutions.
They cover study destination
including UK/ Europe, Australia, New Zealand, Canada, USA and UAE.
This season, they are offering
amazing discounts with free VISA counselling and I really wish you can share
this with someone who needs it. Don't waste any more time, get admission now
and start as soon as July intake.
…PFL, Placing students first…
How Can I Contact Them?
Olajide
OLAGUNJU
PFL Nigeria
2nd Floor, The Landmark Building
Beside Ikota Shopping Complex
Lekki, Lagos
(+234)
7046540410, 8023962820
or
Opeoluwa
IKUEJUYONE
PFL Nigeria
2nd Floor, The Landmark Building
Beside Ikota Shopping Complex
Lekki, Lagos
(+234) 7042924009,
8125388822