Christmas is here, hammarttan is here, and 12:12 is here. You might have been disappointed with Black Friday offer your don't too worry, something more interesting is coming and I want you to braise up because the best time to make your Christmas shopping is now.

Beginning from 7th – 10th of Dec 2015, their will be 1 flash sale every day. 11th of Dec, their will be flash sale every two hours and on 12th of Dec, their will be killer price drop.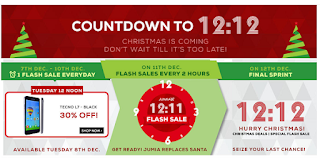 Not just that, 12:12 your long awaited Infinix Note2 will be available for grab on Jumia platform so don't spend your money yet, keep it for this offer. Amazing Christmas deals will be unfold in numerous forms and special flash sales. Don't miss out December 12 12 Deals.
Tecno lovers, their will be flash sale 12:00PM today, for Tecno L7, Get 30% discount on this device…so don't miss out.
Yuletide season is here!