Nokia, the legendary brand known for its mobile phones
several years ago, is returning to the smartphone business next year. I guess
you missed them a lot.
Mind you,
Nokia
won't make smartphones itself, since it no
longer has the required manufacturing facilities. Thus, the handsets will be
made in collaboration with Finnish company
HMD Global
, and Taiwanese giant
Foxconn. Led by former Nokia execs,
HDM
will "develop, market and sell
Nokia-branded phones and accessories", while
Foxconn
is dealing with
R&D and manufacturing.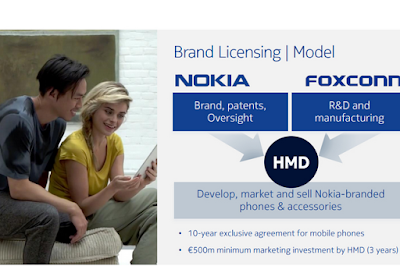 The Finnish company will announce its first smartphones in
the long run while at Mobile World Congress 2017. More Nokia smartphones will
be announced but we really don't know how many HMD Global and Nokia plan to
announce in the first quarter of 2017
and when exactly they will be available on the market.
But it has been confirmed that the rumored
Nokia DIC
with
3GB ram onboard storage, powered by a 1.4GHz Qualcomm Snapdragon 430 processor, 32GB
internal memory, 16MP rear camera and
Android 7.0 Naugat
out of the box will
ship next year.
We can't wait to have more quality smartphones from Nokia
beginning from Next year.