When
you think of data, you don't need an angel to remind you that grand-master Glo
offers one of the
best data plan
so far giving you data that even you, no
matter how you love to download or surf the net, you can't finish it.
Glo
launches another Tariff plan that gives you 800% bonus on any recharge called
Glo Jollific8.This plan is specially designed to give new Globalism prepaid
customers eight times more value on every recharge.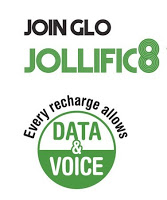 This
is What You Stand to Enjoy
Every
recharge gives 8 times the value of what you recharge
Every
recharge comes with free data and free voice
You
can also choose to share free data with someone else via gift.
This
is how it work,
When
you recharge
N100, you get extra N800 airtime + 10MB
N200
recharge gives N1600+N100(25MB to gift)=N1700
N500
recharge gives N4000 + N200 (50MB to gift) =N4200
N1k
recharge gives N8k +N400 (100MB to gift)=N8400
N5k
recharge gives N40k + N2k (500MB to gift)=N42k
How
Can I Get The Glo Jollific8 Tariff Plan?
>>Get
a new Glo Sim
>>Register
and get it activated (you'll automatically be on Jollific8 tariff plan)
>>Dial
*123*Pin# and you are good to go.
To
check your data balance, dial #122# and for data gifting, dial *606#
Glo, the grand master of data
is the bomb… but we need the bomb to blow on time without delay or sluggish
movement.
Glo Jollific8 FAQ
1. Can I
transfer the Jollific8 benefits to another customer?
Only the Gift Data can be transferred to another customer on the Glo network
2. How much
do I pay for calls on these packs?
On-net and off-net calls are charged at 67k/s
3. When do
the packs expire?
Bonus will expire as shown in the table in point 5.
4. Can I
migrate out of Jollific8?
Yes. You can migrate out of Jollific8 by dialing the migration code of your
desired profile.
5. If I
migrate out of Jollific8, will I still be able to get 8 times recharge value?
No. Once you migrate out of Jollific8, you will not be able to receive the 8
times bonus on the new tariff plan.
6. Can I
migrate back to Jollific8 after migrating out of the profile?
No. You cannot migrate back to Jollific8 tariff plan once you migrate out of
the plan.
7. What
happens to my unused Jollific8 benefits when I migrate out of the plan?
You lose the unused Jollific8 benefits when you migrate out of the tariff plan.
8. Can I
share the free Data?
No. You cannot share the free data
9. Can I
gift the free Data?
No. You cannot gift the free data but you can gift the Gift Data
10. For how
long am I allowed to have the gift data bonus until I decide to use it?
You can have it for as long as 60days.
11. What
happens to my unused bonus after validity period had lapsed?
All unused bonus will be cleared on the day of expiry.
12. Which
account is charged first if I have credit in my Main account?
The bonus accounts are charged first and Main account will be charged when the
bonus accounts have been fully depleted or expired.
13. For how
long can I enjoy the benefits of Jollific8?
You enjoy the benefits for as long as you are on the plan.