Weeks after weeks and months after months,
4G LTE
continues
to spread across the shores of Nigeria even though some still believe that we
only have shadow 4G network in Nigeria.
Well, MTN 4G LTE is now available for everyone to use and I'm sure
you already know their
4G data plans
. Some users are already rocking it and
deem it fit to share their MTN 4G LTE speed test as seen below;
If you are a regular MTN subscriber, you'll need to swap
your simcard for a compatible 4G sim card from any MTN office closest to you
before you can be part of MTN 4G evolution.
How Do I Know if my Smartphone is Compatible With MTN 4G
Network?
MTN 4G network currently run on Band 7 (2600mHz) and they've
made it easier for everyone to confirm if your sim card and smartphone supports
their 4G services by doing the below;
>>Text 4G to 131
You should get a message if your device is compatible
"Yello!
Your device is 4G ready but you need to upgrade your SIM to enjoy MTN 4G LTE…"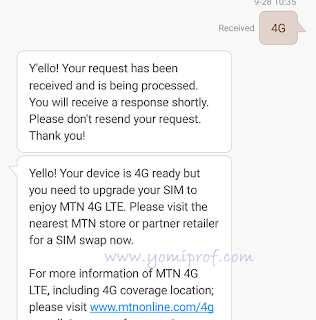 If it is compatible, walk down to any MTN service center
closest to you and do a sim swap to 4G compatible sim.
And to those still patronizing 3G only smartphone, una welldone
ooo..