Finding an
affordable domain name can be a very difficult task as prices of domains have
increased significantly in the last few years. A memorable domain name is the very
first thing you will need to start a website or a blog. And it does not need to
burn your pockets!
Today, I have
come up with a great hack using which you can get your domain name for cheaper
cost & start your blog.
A few years back,
I introduced
DomainKing.NG
because they were
providing highly affordable domain & hosting. And this time too they have some
teasing promos on .com, .ng & other domains.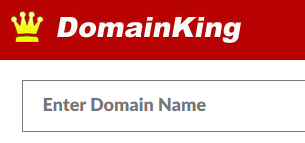 How to register .Com domain at just ₦2699
from DomainKing.NG
You can currently
register .Com domain for just ₦2699! This
is an unmatched deal and you will not find this offer anywhere on the internet.
I have elaborated the detailed steps below.
The prices of domains
at DomainKing.NG are currently the cheapest in Nigeria.
.COM domain: ₦2699 limited time offer,
Use coupon DK2699 at checkout.
.COM.NG: just ₦999, register as many domains you want. Open
offer and no coupon needed
.NG: ₦8899 No coupon needed.
Steps to Register:
1. Visit
DomainKing.NG
and search your domain name in the search box at the top.
Enter the domain name of your choice
and click on Search.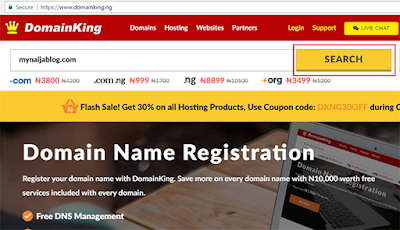 2. You will now see the availability of
your name on the next page, you will find the results and if your domain name
is available then hit Click to continue.
Otherwise think of an alternate name and proceed.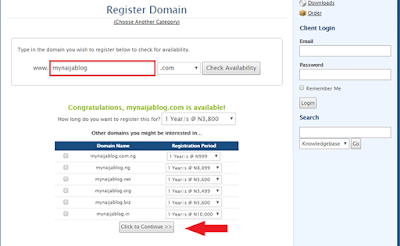 3. Select
Free Addons:
On the next page, select all the free
addons and enter the nameservers to point domain to your hosting account.
Incase you are registering it for blogger blog then leave them as it is. Then continue to Final checkout page.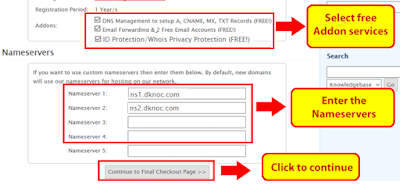 4. Review your order and apply coupon code.
Fill up your details to create your
account and review your order to check if you are registering the correct
domain and reduce the price by adding the coupon.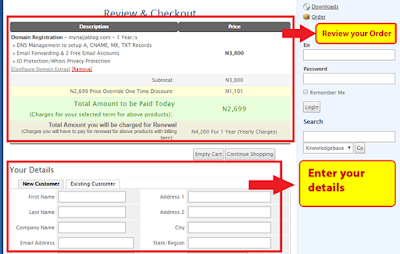 At the bottom of
this page, you will need to enter the coupon to reduce the price of your .com
domain to N2699. Add coupon DK2699
and the price of your order will decrease to N2699.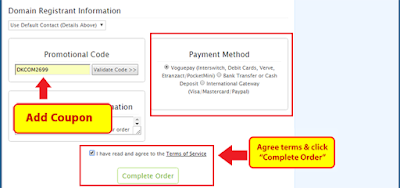 5. Choose payment method and complete order:
You can pay via VISA Card, Master
Card, Verve Card or you can even choose to pay via Bank deposit or Bank
transfer. Select
your preferred payment method with which you want to pay and accept the terms. Then
click on "Complete Order" button.
Once you have made the
payment then your domain will be activated automatically and you will receive
your domain registration details on your email.
There's even more!
Every Domain
registered with DomainKing.NG comes with

2 Free Emails
accounts
(e.g
[email protected]
. com)
and free blogger integration
. You can contact their support team for help
and they will create emails and link your domain to your blogger blog for free
.
I hope you will
make most out of this offer and register your domain to start your blog and
move from blogspot to custom domain. Do let me know in the comment section if
this article helped you.