Let me guess, some of you must have been enjoying hammer vpn with MTN for a while now, downloading browsing and surfing anyhow like you want.
Well, for those of you who have been asking me how to get the premium version, this article will show you how to get it and surf unlimited.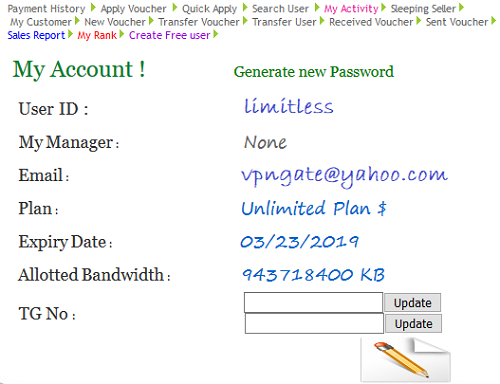 As a free user, you get 150MB daily usage but as a premium user, you get unlimited and it is somehow fast depending on your location.
How to Get Hammer VPN Premium Account from TunnelGuru
1.Visit tunnelguru.com and click on registration
2.Fill in your Username, valid email address and enter the CAPTCHA before hitting the register button
3.Proceed to your email to retrieve your password
4.Go back to tunnelguru.com and login with the username and the password sent to your email
Once you successfully logged in, you can now proceed to Buy Traffic Plan option to avail premium unlimited bandwidth.
5.There are 3 plan offers e.g Basic, Unlimited and Deluxe. But unlimited is always available on their plan offers.
6. It is a one month plan so click on buy plan and proceed to pay with PayPal option. You'll be charged $4.25
Once your payment is completed, wait few minutes and refresh your account, you'll see unlimited Plan$
7. Go back to your hammer vpn, login with the username and password to your tunnelguru account and select any premium server of your choice… connect and enjoy.
The download is pretty fast and I'm sure it will save you a lot of cash in getting data.
However, if you don't want to use the premium server, you can continue with the free servers of 150MB daily.