You'll agree with me that dark mode is way to go right now since it will save you a little eye strain. Those of you using Dark Mode on some of your most-used apps like WhatsApp will at least notice how effective it is at night.
Facebook has decided to roll out Dark mode to Facebook lite users globally, bypassing the original Facebook app. Though other apps in Facebook's family have been more progressive in this respect. Messenger, for example, got a dark mode about a year ago, while Instagram jumps on the bandwagon sometimes in October last year.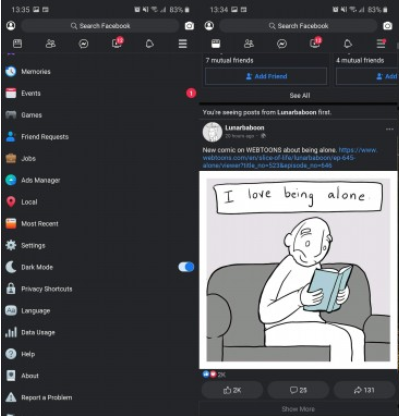 Users of Facebook Lite app are testifying to seeing the dark mode option, and here is how to activate it
How to Activate Facebook Lite Dark Mode
To get it working, click on the hamburger menu in the top bar and scroll until you see the Dark Mode toggle right below the Settings option. Flip it on, and the app will switch to a gray UI that uniformly covers all app sections.
We believe with time, Dark Mode will be rolling out globally to all Facebook app users.
If you don't have Facebook Lite app, you can download it from Google Play store here or from APkmirror here.