Meta announced today that it will now let users post their NFTs across both Instagram and Facebook. Users can connect their wallets like Rainbow, MetaMask, Trust Wallet, Coinbase Wallet and Dapper Wallet to post digital collectibles minted on Ethereum, Polygon and Flow.
The first stage of this support will allow owners to post their NFTs on Facebook and Instagram. They only need to connect their digital wallet to one of the two apps to be able to access both platforms.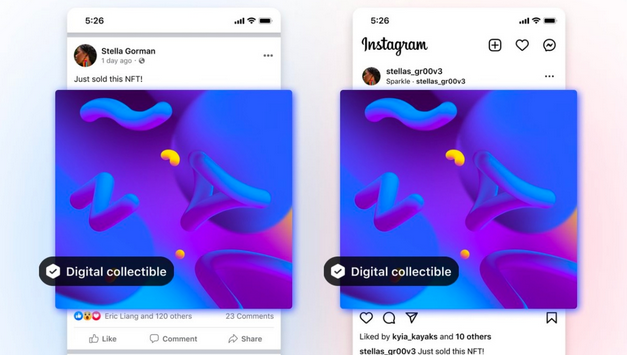 "As we continue rolling out digital collectibles on Facebook and Instagram, we've started giving people the ability to post digital collectibles that they own across both Facebook and Instagram. This will enable people to connect their digital wallets once to either app in order to share their digital collectibles across both," the company
Meta had begun testing NFT support on Instagram in some countries and recently started allowing it on Facebook. While this initial support seems passive, the social media giant has other plans for the NFT market.
Meta is moving deeper into NFT territory even though the market for the digital tokens has nosedived in recent months. There are indications that Meta is working on a marketplace where people can buy and sell NFTs, but whether people will actually use it remains to be seen.
While other platforms like Twitter and Reddit have focused on NFT-based avatars, Meta is trying to reach a wider audience by introducing features that will let people show their digital collectibles through posts.