A few days ago, it was announced that Nigerian launches its first-ever mobile phone ITF Mobile, handed over to President Muhammadu Buhari. Assembled by the ITF Model Skills Training Centre (MSTC), Abuja, and produced with 100 percent locally sourced material.
Now, the Director-General of the Industrial Training Fund, Joseph Ari, on Friday said that plans are at an advanced stage to ensure commencement of the mass production of its smartphone, making it available and affordable.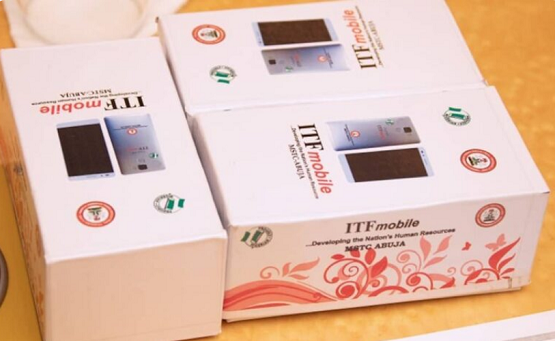 The question everyone has been asking is that is this the first Nigerian homemade phone?
Here are What You Should Know
Before now, a good number of Nigerians have come up with different Made in Nigerian phones amongst which are; Solo Aspire 3, Ankara K2, and Plirisblazex-64. A little google search will give you an insight into this.
Solo Aspire 3
Solo Aspire 3 was manufactured by a Nigerian tech company, Solo, which was formed in 2012 by a group of telecom professionals led by Tayo Ogundipe, a Nigerian-born ex-senior global executive with HTC and Sony Ericsson.
Ankara K2
The Ankara K2 smartphone was launched by a Nigerian device maker, Imose Mobile around early 2015.
Plirisblazex-64
Plirisblazex-64 smartphone was manufactured and released into the tech market in 2015 by Pliris Mobile Limited, a Nigerian tech company, founded by Oluwafemi Alade.
Also, on April 25 April 2017, The Guardian published a report stating the emergence of the first-ever made-in-Nigeria phone by AfriOne.
4 Facts You Should Know
1.there is no Made in Nigerians Phone yet. What the government is calling made-in-Nigeria phone is actually assembled in Nigeria because no phone is globally recognized to have been manufactured in Nigeria.
2. The ITF mobile phone is an Android phone assembled by the Electrical/Electronics Technology Department of the Industrial Training Fund's (ITF) Model Skills Training Center in Abuja.
3. The Mobile phone is made from components 100% locally sourced from Lagos and Aba, Abia State.
4. The phone is ready for mass production.
Final verdicts, ITF mobile is neither the first made-in-Nigeria nor a first assembled-in-Nigeria phone.