[Updated 10/29/2021] A few months ago, we shared with you a browser that rewards you with its NBX cryptocurrency coin each time you used it. Netbox browser rewards its users, and some are loving it while some others have one or two complaints.
I have been using this browser for months, and the crypto rewards come every day. Netbox.Global cryptocurrency coin (NBX) is already listed on coinmarketcap, and coingecko for price monitoring, and for trading, it is listed on Hotbit, Crex24, Stex and Pancakeswap. You can trade it for BTC or any other pair easily on Hotbit or BNB on pancakeswap.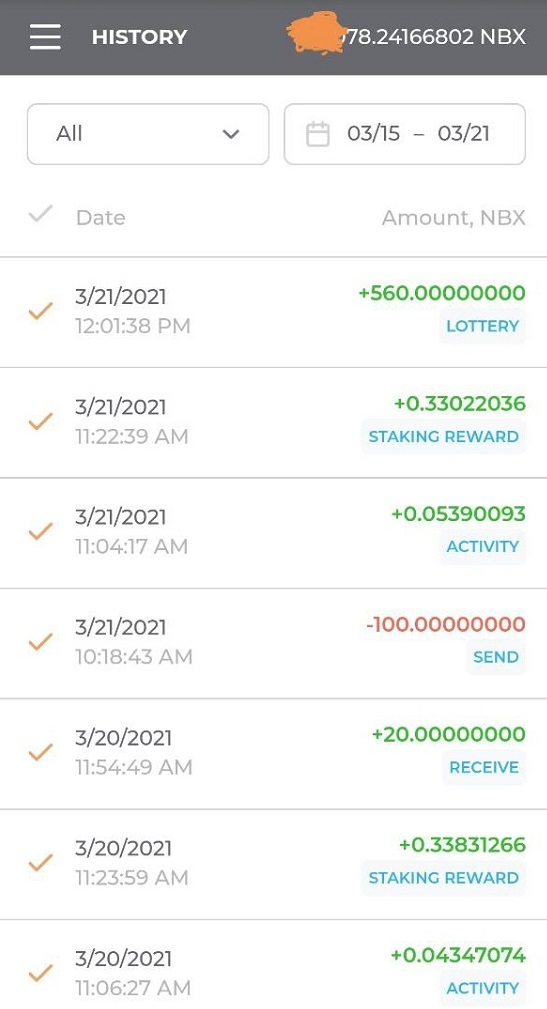 The folks recently released Netbox.DeFi and NBXB farming with a total reward pool of 1,000,000 NBXB. The coin is already trading on Pancakeswap.
You can swap your NBX coin to NBXB and trade it on Pancakeswap.
How to Swap NBX coin to NBXB on Smartphone
The netbox.Bridge is a blockchain tool that allows users to move NBX funds from one chain to another. For example, you can move (swap) your NBX coins on Netbox.Chain to NBXB on Binance smart chain BSC pegged at 1:1 ratio.
Here is how to use it
To swap NBX to NBXB, open your wallet in the Netbox.Browser mobile application and click the "BRIDGE" menu tab.
In the "From" drop-down menu, select "NBX".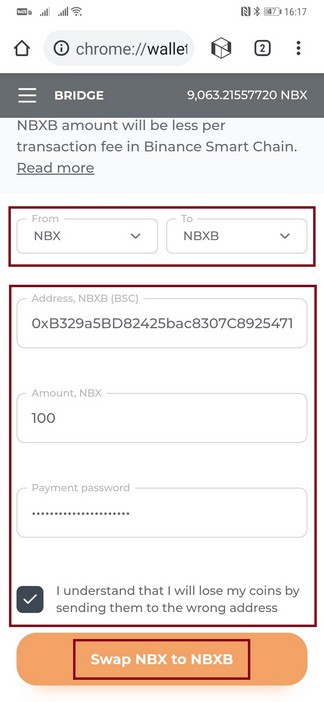 Fill out the fields below:
Address, NBXB (BSC) — enter the BEP-20 address where you want to receive the NBXB tokens (Should begin with "0x");
Amount, NBX — enter the amount of NBX you want to swap for NBXB (Minimum — 50 NBX);
Payment password — enter your Netbox.Wallet payment password to complete the transaction;
Check (✓) the box next to "I understand that I will lose my coins by sending them to the wrong address". Note: This must be checked to enable the "SWAP NBX TO NBXB" button.
And click the "Swap NBX to NBXB" button.
>>You will see the "Confirmation" window containing all the details of your swap. Be sure to review all of them!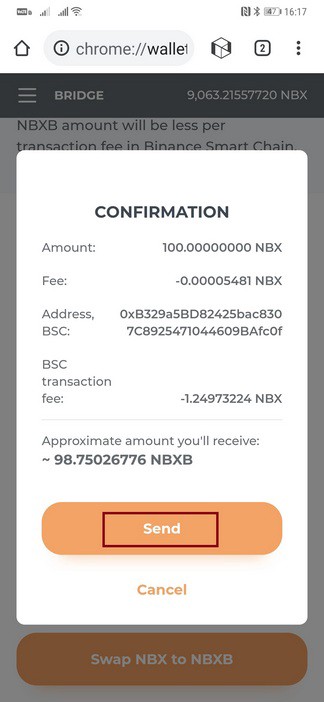 And click the "Send" button to begin the swap.
You will see a new "Success" popup window, click the "CLOSE" button.
"Swap transaction is successfully created"
To check your transaction in the Netbox Explorer, access the "HISTORY" menu tab, select your swap transaction, and click on "TxID''. Wait for 10 transaction confirmations and check your BEP-20 wallet for incoming NBXB tokens.
That's it. Your swap is completed! Now you are ready to use, trade and send NBXB tokens!
We want to hear from you what has been your experience so far, have you been getting your daily rewards? Have you gotten your first-timer free 20NBX coin for joining?
Kindly share your experience so far, if it is good or bad.