MTN Nigeria partnered with Showmax to launch a new streaming data bundle for subscribers back in February last year, and a lot of subscribers have been exploring the data bundle.
Showmax is a streaming video on-demand service that offers subscribers exclusive local and international movies and series entertainment, exclusive live sporting events, kids show series and other live events.
Subscribers on the MTN network can pay for their Showmax subscription using their airtime, launch the app, and begin streaming content. You can buy your MTN data bundled together with a Showmax Mobile or ShowMax Pro Mobile subscription at one low price point.
Subscribers from MTN can also enjoy various data bundled packages to stream on Showmax only or binge with Showmax while meeting their other data requirements.
Showmax Data Bundle Available
Which Showmax plans does this deal apply to and what does it entail?
Showmax Mobile (Movies, Series & Kids)
Showmax Mobile access only @ N 1200
Showmax Mobile with 2.5GB MTN data @ N 1700
Showmax Mobile with 5.5GB MTN data @ N 2200
Showmax Pro Mobile (Live Football, Movies, Series & Kids)
Showmax Pro Mobile access only @ N 3200
Showmax Pro Mobile with 2.5GB MTN data @ N 3700
Showmax Pro Mobile with 5.5GB MTN data @ N 4200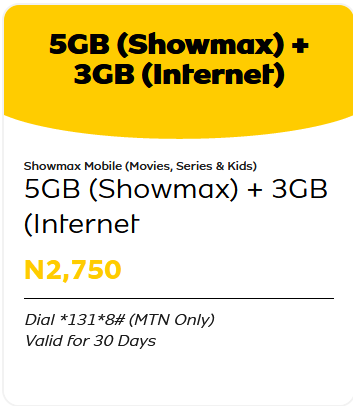 How to Subscribe
There are 3options for getting the Showmax offer service on the MTN Network
Dial *131*8# or *447*2*2# from an MTN line to subscribe to any package of your choice.
Showmax website (www.showmax.com/mtn)
Send keyword to short code 13115 (Coming soon).
Let us know your experience so far with the MTN ShowMax bundle. Is it worth it?