Smartphone makers are already working towards 5G smartphone, Huawei, LG, Xiaomi, OPPO etc while some users are still using 3G/2G smartphones.
Some can't even differentiate the difference between 3G and 4G enable smartphone. Some have enabled 4G smartphone but have never experience 4G LTE speed on their devices.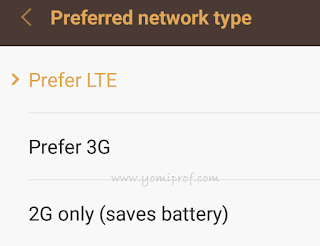 The difference between 3G and 4G is that 4G means you can do everything 3G can but faster and smoother than ever before. Web pages load quicker, you can download content within seconds and streaming video and music is free of buffering.
How Do I Activate 4G on my Phone?
The easiest way to activate 4G on your phone is to go to settings>> Mobile network>> then tap on the Mobile Network selection. Finally, tap on the Network Mode. If you see LTE listed among the choices, just tap on that to activate LTE 4G and you should be all set.
Or
go to your phone dialer and type in or paste  *#*#4636#*#*.  Then you should see a menu open up. Tap on the Phone Info option and then go to the  Set Preferred Network Type selection. You then press on the drop down box and select the LTE network option.
We would like to ask you, does your smartphone supports 4G connectivity?